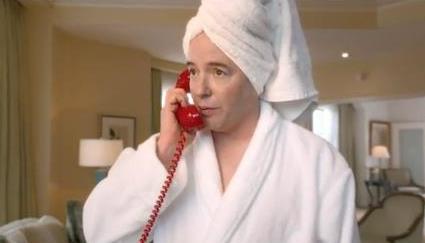 Although I was the ultimate good girl in high school, I had an absolute obsession with pop culture slackers. From 1990-1993, my  I watched, loved and obsessed over  Fox's Parker Lewis Can't Lose. The titular Parker Lewis, played by Corin Nemic, was essentially the television version of Ferris Bueller who turned class avoidance into an art. Interestingly enough,  the show debuted at the same time as NBC's Ferris Bueller spin-off. NBC's version  lacked the same amount of energy and slacker charisma that Nemac's character generated. Parker's avoidance of his sexual dominatrix principal Russo, his "cool beans" and "synchronize swatches" catchphrases, and his ability to technologically rule the school made me love him times twenty.
In the tradition of Parker and Ferris, a slacker is a deliberate do-nothing who  refined slackerdom to an art. Slackers  aren't slackers out of stupidity (which discounts Al Bundy and the Raising Hope gang). Oh no, slackers possess a deliberate, painstaking, and canny intelligence. Their avoidance of work takes more work than actual work, essentially granting them a PhD emeritus in slacker-dom (if they cared to achieve  it).
When I saw the Superbowl's Ferris Bueller commercial, I did a little dance of joy. It not only reminded me of my '90s love for the original '80s slacker, Ferris, but for my favorite '90s slacker, Parker. So, I figured why not send out to the CliqueClack peeps to figure out THEIR favorite slackers.
Although I shaved  the poll down to favorite sitcom (non-animated) slackers of the past two decades, some people got totally old school during the process.
An: OK, Folks. Who's your favorite TV slacker of all time?
Here are a couple of the top of my head:
Jeff Winger (Community) tops my list. After that, Parker Lewis Can't Lose (Fox), the Ferris Bueller knock-off who knocked NBC's Ferris Bueller right off the TV screen. In fact, Parker Lewis is another part of my reason for doing this poll. I still view "cool beans" as cool.
After that, I have to list Zack Morris (Saved By the Bell) — although I hated that show as a kid for pandering to the lcd, lowest common denominator. And, yes, I was a TV snob at age 14.
And, maybe, Hyde from That '70s Show. But, he made slacking into an art form. He's more like the '90s version of Fonzee.
Alright, so provide your suggestions and your reasons.
Katie: Phillip J Fry (Futurama) is a must. He was so lazy he accidentally got himself frozen for 1000 years because he leaned back with a beer! To quote: "No offense, Fry, but you've become a fat sack of crap." – Leela  "Sack?!" – Fry
Brett: Maybe a stretch because I think only me and 12 other people watched the show, but my pick would be Bill Stankowski (Chris D'Elia) from Glory Daze. Perpetually stoned, occasionally profound, and most notable given this poll … he had been living at the Omega Sigma house for ten years.
Debbie: Homer Simpson, or Bart for that matter? As adorable as he is, Shawn from Psych could qualify. Axl from The Middle.
And I resent being lumped into the lcd category — Saved By the Bell was awesome! "I'm so excited … and I just can't hide it …" And if you know that reference, you will both laugh and cry with me at the same time.
Carla: Oh … my … I … am … SO … old!
Ivey: I'm so … I'm so … scared. That An doesn't like Saved by the Bell.
Rachel: Al Bundy — Married … With Children. Haley Dunphy — Modern Family. Pacey Witter — Dawson's Creek. Dylan McKay -- 90210 (not sure if he qualifies as slacker or just bad boy). Claire Fisher — Six Feet Under.
Ivey: Pacey!
Rachel: Somehow I knew you would remember Pacey, Ivey.
Michael: Peter MacDougall (Chris Elliott), Everybody Loves Raymond. "Of all time"? Hardly. But … a slacker of monumental proportion in his own right.
Jane: Of ALL time? Then Maynard G. Krebs from Dobie Gillis should be mentioned. At least here. Because no one besides me and probably Michael will remember him. Since we're old. But only old enough to have watched Dobie Gillis in reruns. I do think Maynard may be the original TV slacker, though.
Michael: *applauds Janey, agrees*
Chuck: Hey I'm the oldster here (I think)!  I know Maynard (aka Gilligan).
So, who is YOUR favorite slacker?
Poll expires on midnight, February 26th, but you can vote once a day up until then.
Photo Credit: Honda