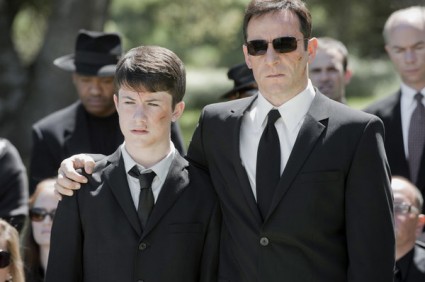 I admit that I was very gun-shy to watching this show in the first place. Its basic premise simply spells out my worst nightmare, as I, too, have a wife and one son. The thought of watching a show where a man is torn between two "worlds" where only one exists but not the other was horrifying. In hindsight, though, it seems Michael has in a way been blessed. Rather than be in a world where he never gets to see one or the other of his loved ones, he at least gets to see them on their own; that's certainly got to be better than nothing.
Something I found very cool about how the series is filmed is how we, the viewers, are reminded of which "reality" Michael Britten (Jason Isaacs) is currently living. When he's in the "wife world" — for lack of a better term — the scenes are filmed with a warm, yellow/gold hue; when he's in "son world," the hue is a cool blue. It sort of matches with the bracelets Michael wears too.
It seems that it's quite possible the writers have planned for Tara to come on as a sort of love interest for Michael, though I'm not sure how that could work in the sense of being realistic. What I mean is, Michael clearly loves his wife, Hannah (Laura Allen), and it could reasonably be several years before he'd ever be expected to be ready to move on to another relationship. Heck, it would be reasonable to never be ready, especially when — in his head — his wife's still alive. I hope they don't try to force that down our throats.
There's more to this show than what you saw in the pilot. I was able to check out the next few episodes, and you'll find out that there's something more to the car accident than we know. Thankfully — at least not yet — there's nothing apparently supernatural going on to cause Michael's dual life; I really hope it stays that way. Many times a show like this begs for its underlying mystery to be solved, and I'm a sure sucker for their resolutions. However, there's something about Awake's mysterious element that makes it serve merely as an interesting method of delivery. It's just the way it is, though it'll be fun to discuss.
Speaking of discussing the two worlds, I had a thought: could it be that Michael is the one who's in a coma, and both his wife and son are alive? Or what if his wife or son some day reveals they, too, are hopping between two realities? Again, it's not something the show needs to throw in — it's just me doing my usual theorizing.
As I said, I saw the first handful of episodes, and I'm happy to report that this is one to keep watching. It may not be utterly edge-of-your-seat action and thrills, but it's consistent and, at many times, moving. Definitely give it a shot if you haven't already.
Photo Credit: Lewis Jacobs/NBC