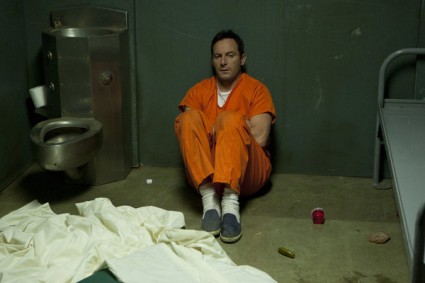 Some of you may recall that I pretty much gave up on Awake after the fifth episode. There are a few reasons for that. Firstly, I wasn't interested in the crimes of the week, which were becoming a primary focus of each episode. It also didn't help that show creator Kyle Killen came right out and said there's nothing more to the dual-world aspect of the show than one of them not being real. Finally, the ratings were pretty much spelling out that things were looking rather bleak for the show's future, so tuning in every week felt like a waste of time. Ultimately, NBC passed on picking the show up for another season.
Then, last week, we started a poll here at CliqueClack, asking which cancelled show we'd all like to see live on. Fellow Clacker Meredith mentioned she voted for Awake, and that last week's episode really kicked things up a bit. Really? I had to give it a watch. As it turns out, she was right.
I would say if you gave a newcomer to Awake the show's first two episodes, and then the last two, they may wonder why the show failed. Perhaps you'd miss some tiny details in there, but they're quickly summed up in flashbacks. If the show could have kept with this sort of material all along, at least I would have tuned in every week. Others would have likely stayed tuned in as well. Unfortunately, I don't believe the strength of these last two episodes is enough to say the show deserved to live on to see another season, as there's no promise it wouldn't do the same filler-like episodes again.
What I don't understand now is why Killen would say one of Michael's realities was the "real" one, and none of this was all due to a coma or elaborate dream. Perhaps he intentionally misdirected us or changed his mind at the last moment, when it seemed his show was doomed. It could still be that — had there been a second season — what we saw in that final scene could have been brushed off as something else entirely. Who knows. We may never know.
It's nice that Awake ended with what feels very much like a fitting series finale. Oh there are still some questions, such as what was going on in the first place with Michael's dreams/visions and why he'd have been living with one of each of his family members dead while they were actually alive. In any case, I'm satisfied. While it was a great ending, Awake doesn't deserve another season because, quite simply, it doesn't need one.
Photo Credit: Michael Desmond/NBC