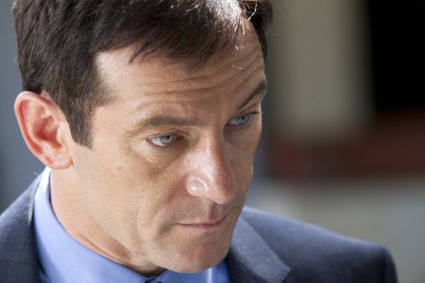 Let's face it: without the morsels of mystery we're given related to Michael's unique predicament, at five episodes in, the show's tanking. This week's crime-of-the-week was slightly better than the previous few episodes, though, as it's bringing more people to question where Michael gets his "hunches," and it also brought in a possible long-term enemy: The Gemini Killer. And that name right there sparked an idea in me for what might be going on with Michael.
When The Gemini Killer was first mentioned, I got to wondering why someone would be called that. Gemini is typically associated with the astrology sign, which has twins as its symbol. Of course, the name the FBI gave this killer wouldn't have anything to do with Michael at all, but the writers for Awake sure did. So did they just come up with a cool name that's akin to "Zodiac Killer," or are they throwing us some sort of hint? For some reason, I felt it had to be connected to Michael's situation, so I paused the episode to collect my thoughts in my tired brain, and it started to come together a bit.
Most people seem to be assuming one of three things is going on here. Either Michael is dead, and this is all some sort of afterlife experience; he's in a coma and dreaming the whole thing; or he's living one of these worlds, but the other is a dream. What I don't think I've heard anyone mention is that both of these worlds exist in separate dimensions (for lack of a better term), and we are watching two different Michaels. In effect, there are two Michaels, and both of them are dreaming and unaware of the other. When blue-world Michael goes to sleep, he dreams of his wife being alive, and vice-versa in yellow world. What might be happening, though, is that a phenomena is occurring where, as Michael sleeps, he's experiencing what's going on in the other dimension.
So what's this all mean then? What's the point? I'd say the point is that Michael loves his family so much in both of these realities that — combined with the exact timing of a car crash in both worlds and the trauma associated with it — his dreams are occupied by each of them. The effect of the precise timing of the crash in both worlds triggered off the phenomena of each Michael being able to experience the other's world.
I'm totally eating my words from earlier, where I said the mystery of the show was completely secondary … well, it is secondary, but not in what I want to see out of the show. The cop drama's been done to death, and there's little new here in that regard. So, I find fun in thinking about the otherworldly piece over the other stuff. That might mean I have nothing specific to talk about on a weekly basis with this show, but I'll certainly try. I'm just not cut out for talking about the crime-of-the-week, hence my lack of non-Red-John Mentalist reviews every week.
Final thought: if Michal transports to the other reality when he goes to "sleep," does he ever truly sleep?
Photo Credit: Justin Lubin/NBC