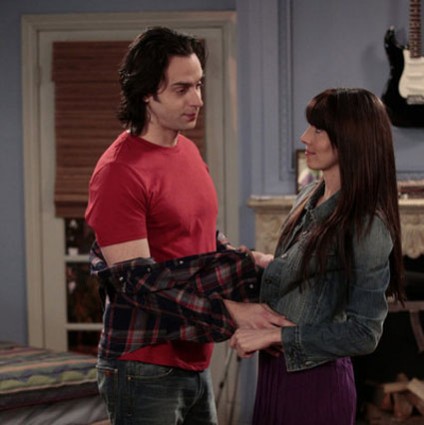 Yeah. I like Whitney. So sue me. Why? Because it isn't the standard one-note couple sitcom. In fact, it reminds me a lot of a modern-day Mad About You. Yeah, that's right. Mad About You.
Last year, after Cougar Town and Mike and Molly's success, NBC, FOX, and CBS all released their own couples knock-off comedies, including Traffic Light (FOX), Mad Love (CBS), and Perfect Couples (NBC). Although each show featured star power (Mad Love highlighted Jason Biggs, Sarah Chalke, Tyler Labine and Judy Greer while Traffic Light featured established actors like David Denman, Liza Lapira and Kris Marshall), they didn't contain heart.
When I watched Whitney's pilot, I hated it. It featured broad comedy directed towards one-note jokes and the characters came across as one-dimensional. Plus, the commercials played up Whitney Cummings' sexual factor as opposed to her humor or the show's focus. Despite that, I watched the show EVERY SINGLE WEEK. Why? Because unlike Traffic Light and Perfect Couples, well written shows with subtle acting and smart humor, it had heart.
In fact Whitney's premise reminded me of Mad About You (NBC, 1992-1999). Before you self-implode, let me continue. Mad About You surrounded a smart, snarky couple living in Manhattan while highlighting their mutual dedication to each other. That's essentially Whitney, a show about a slacker photographer and her .com wealthy boyfriend who live in a Manhattan apartment. Like Mad About You, the show emphasizes the lead couple's mutual dedication to each other. Of course, to modernize it, Cummings made Whitney a self-absorbed female commitment-phobe, who can't comprehend her three-year relationship with her long-term, live-in boyfriend.
Yet, even at its worst, the relationship reminds me of Mad About You at its best. Unlike Traffic Light, Mad Love or Perfect Couples, I actually BOUGHT the commitment between the lead couple. Although I'm a singleton who loves Bridget Jones (the novel), I'm starting to hate shows surrounding perpetually single people in their 30s who deliberately refuse to commit. If a gorgeous, well-adjusted guy presents himself, I'm settling down, unlike in Private Practice or similar shows where people my age maintain a rotating bedroom. So, I welcomed Whitney's entrance.
Sure, Whitney's heavy on hipster snark, but unlike the aforementioned couple shows, its concerns ring true. And, it's their certainty of their feelings for each other that reminds of Mad About You. After an episode surrounding Alex's ongoing fight with his best friend, Mark, he finally confesses that Whitney's his true best friend. After a show surrounding Whitney's marital induced insomnia, Whitney admits she could see herself with Alex. In fact, on screen Whitney and Alex compliment each other so well (physically and through natural body language) I actually googled to see if Whitney Cummings and Chris D'Elia were a real life couple.
However, Whitney doesn't just focus on the couple, it focuses on the friends. In that sense, Whitney also reminds me of Community. Like the characters in Community's pilot, Whitney's supporting characters initially seemed like stock, one-dimensional stereotypes including the lovey-dovey couple, Lily and Neal (Maulik Pancholy, formerly Jack's 30 Rock  assistant); the alcoholic ball-busting, singleton, Roxanne; and the stereotypical sexist pig, Mark.
So, as the show progresses, so do the plotlines and characters. Like Dan Harmon, Cummings eventually realized that muting her voice or trying to fit it into an established norm didn't do the show any favors. Now, she's incorporating more feminist humor while making the characters more two-dimensional (they're not quite 3D, yet). "Mad Women" mocked a society that forces women to lose 30 pounds, yet regain it through fake hair, fake breasts and a fake ass. In my 20s, I learned that hair extensions, gloss, deep v-necks, and heels easily achieved dates. But, in my 30s, I've basically taken an eff-you perspective to anyone who expects that. I loved when Whitney dressed up in glue-in hair tracks (that fell out), lip-plumping lip gloss (which really does sting), and ass cutlets for Alex, forcing him to realize the horror of undressing a made-up woman.
Character-wise, Neal and Alex are no longer the perfect cardboard men. We covertly see hints of Alex's sexism by calling guys physically faster than girls and requesting Whitney dress up in girly clothes. Neal is no longer the perfect Ken doll boyfriend whose life surrounds his girlfriend. Also, the show no longer plays to one-dimensional slutty girl humor as we increasingly see Whitney display more maturity than Alex when pointing out his relationship flaws (a password-protected phone is a no-no). The "playa" Mark reveals he isn't a player and is always there for his friends. Although Roxanne's still the same, Lily's slowly getting her own personality.
So, yeah, I like Whitney. Yeah, it reminds me of Mad About You through the relationship and Community through its growth. Yeah, I snark about it, but I still hope it returns next year. We need more all-female shows with a feminist bent. And, I hate when critics are harsher on female-led shows. So, Whitney, keep on improving, girl. I'm behind you and I hope NBC is too.
Photo Credit: NBC