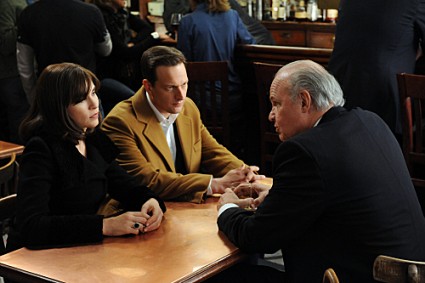 It's always a good night when The Good Wife has the wisdom to bring Louis Canning back for another legal battle. We're fortunate that no TV executive has woken up to the fact that Michael J. Fox is still out there as a free agent, and that he continues to be available to go toe-to-toe with Alicia every other month or so. How great is it to watch him work?
Even tonight's case made for an interesting study. I enjoyed the machinations that led Lockhart & [insert name here] to embrace the introduction of the APHL into their wrongful death case. And it was kind of hilarious how everyone kept saying that they were "suing hockey," as if the very sport itself was the defendant.
And things were going well with Canning matching wits and strategy with Julius and Alicia. The problem came when Frank Michael Thomas (Fred Dalton Thompson) got shoehorned into the story for what turned out to be no apparent reason. Thompson's last guest spot didn't leave me with any lingering memories, so I for one wouldn't have chosen him as the big guns to bring back in this situation. In fact, considering that The Good Wife sees guest attorneys all the time, chances are that there are literally dozens of lawyers who could have more reasonably been brought back for this purpose. Thompson did his best legal work on a whole nother series.
The jockeying for position at the firm is also getting dull. There's no reason why the firm would need to slap another name on the masthead for a few months, so the premise doesn't even stand on its own two feet. But the infighting between Eli, David Lee, and Julius is insufferable. How about Diane makes another managing partner unilateral decision and puts an end to it already? It's boring.
Alright, so to the best part of the episode that wasn't: Alicia's near escape from the firm that "gave her a chance after thirteen years away from the law." (What does that matter now that she's proven herself for three years?) She was this close to actually making the decision to walk … I could feel the excitement from the prospect of a) Alicia making a reasonable career decision, and b) more regular appearances by Michael J. Fox. Could you imagine?
How much money could Canning possible have offered Alicia? Keep in mind that even at a ten percent down payment, Alicia would need to come up with $190,000 (plus closing costs) for their old house. A third year associate in New York could expect to gross about that, which means one in Chicago is making less. Gross. In order to come up with that much free cash for a down payment in the near future, however, Canning would have had to offer her what, half a million dollars? More? And then how large a bonus could the firm have offered her? Because it would have needed to be $200,000 for it to be worth anything for her purposes. And for what, being assigned to a case that settled because the APHL convinced the original defendant to cough up $5,000,000? Do firms pay luck of the draw bonuses now?
Anyway, the important part was how close Alicia was to getting out. How much longer must we wait?
Photo Credit: CBS