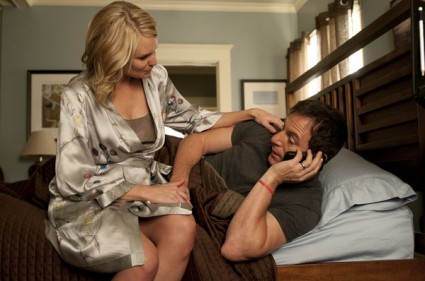 What do you say about a show, week-after-week, when there's very little to say about what you find most interesting about the show in the first place? When a show like Awake has to attach itself to something that works for stand-alone episodes — like a crime-of-the-week — it has to make sure it's still staying interesting. While the crimes at stake in this episode weren't terrible, they certainly didn't hold my interest.
There wasn't a whole lot relating to the main theme of the show — the existence of these two worlds for Michael — nor the mystery of the crash. The morsel we got came from each of Michael's shrinks, who are basically fighting against one another to prove that his or her world is the "real" one, and why something would carry over in dream form to appear real. There are plenty of examples already that show there's more to these existences than mere dreams or symbolism, so it's starting to become old news at this point.
What I'd like to see happen is for Michael to meet one of the other shrinks in one reality, then introduce the two of them and watch them pit against each other right there. I could see Michael eventually grow sick of what's happening to him or want to better understand what is going on, going out of his way to find one or the other of the psychiatrists to meet the other. If nothing else, it's fun to think about what might be coming up to keep things fresh with this show.
I know there were some of you commenters saying you couldn't stand the cop drama aspect of the show. Has it lost you yet?
Photo Credit: Neil Jacobs/NBC