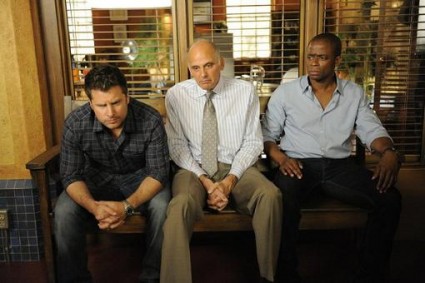 As usual, last night's episode of Psych was quite interesting. Nothing new there. While not as entertaining or comedic as the last installment, this one did offer up some chuckle-worthy moments along with a few new situations. For starters, how cool was it for Woody to have gotten some decent screen time? It seems the writers are really trying to utilize their characters to the fullest, and I can think of no better cast on television than the one of Psych to utilize effectively. Wait, wait a second … the Desperate Housewives cast is pretty awesome. I digress. In my last review, I mentioned how happy I was to see Gus get the spotlight for a change. Now with Woody getting some attention, one can only hope that the chief is next, although she did have a bit more to do last night too.
I enjoyed seeing Woody spar with his former flame, and was honestly surprised when she turned out to be the culprit. Was anyone happy to see French Stewart onboard to lend Shawn and Gus a hand in solving the case? I sure was! I've been a fan of Stewart's work since seeing him in Inspector Gadget 2. Granted I was a kid then, but talent is talent, right? It was pretty funny seeing him take our favorite sleuths on a trail that led from a hip soul food Chinese restaurant to a sizzling 1940's (or is that 30's?) dancehall and into the office of a real psychic — not the one that Shawn pretends to be.
Another thing that I enjoyed seeing was Shawn's father, Henry, get some comedic material. How hilarious it was to see him bury his head on the chest of one of the buxom broads at the dancehall! It's pretty cool to me how the writers always find a way to keep Corbin Bernsen relevant to the story. That's always nice. Anyway, as customary with the reviews, here's a few of my favorite quotes:
"Dude, we've already hung out with enough crazy white people this year." – Gus
"Rumps facing me. Let me see your rumps!" – Whip
"How many potted plants does it take to spell loser?" – Lassiter
"She was a freak — full of ba-log-na." – Shawn
"I will get down on my knees and beg like a saint bernard!" – Woody
And that does it for my opinons, guys. However, I'd love to read your own. What did you think of this week's installment? Did you feel it wasn't as good as the previous episode, or do you think it was on point? Did you enjoy Woody getting the spotlight? Who would you like to see spotlighted next? And more importantly, did anyone find the pineapple? Sound off in the comments below!
Photo Credit: USA