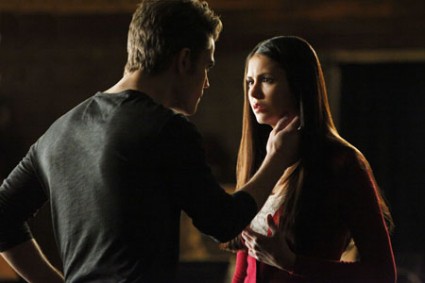 "I hear you had a run-in with Buffy the Vampire." – Caroline, to Alaric, about Rebekah knocking him out
Did you ever start out watching an episode of The Vampire Diaries, thinking you knew what would likely happen, and then the episode turns out nothing like you thought? Yes, me too … every week. That's the fun of this show. Instead of milking Sage and her hatred, turning her into another Katherine to toy with the gang each week, she got offed. And her offage revealed yet another new piece of mytharc. We barely got through the white oak that could kill the originals, and now we find out that you can't kill an original after all … without killing the entire bloodline (it's not looking good for Tyler … or, Klaus is one lucky bastard). I kind of enjoyed watching Sage expel blood and whither into a pile of ashes, but maybe that's just me.
As much fun as all the death was, one of my favorite scenes was between Caroline and Alaric. For one, it showed the absolute agony that good Alaric has for the deeds his alter ego has done. His apology for killing Caroline's father was heartwrenching. Then, Caroline's strength and pure heart went and trumped Alaric — her explanation of the blood on her hands, and the fact that she couldn't judge him was just so Caroline. She's amazing, and I quote: "I'm going to take a page from the Elena Gilbert handbook and believe that you can be saved." Exquisite.
My other favorite scene was between Stefan and Elena. I wanted it to be like the old days for some reason … I wanted Elena to forgive Stefan, and I wanted Stefan to stop pushing her away and for them to fall into each other's arms. Then I thought about the scene from a couple of episodes ago, where Elena says that her love for Stefan helped her feel safe after her parents' death, because he couldn't die on her. What she can't explain about her feelings for Damon is exactly what makes me think it's more real. So I realized that Stefan and Elena can't go back. I believe him when he says he will always love her and that she has never stopped loving him, but I think for them to be together without any doubts, something else is going to have to happen, something to bring their love some relevancy to the present, to honor all of the events that have taken place since their separation and to honor the changes in both of them. I'm not sure what that would be, but it has to happen for their reunion to mean something.
Does that mean I think that Elena should eventually end up with Stefan? I'm not sure. I do know that she can't leave her feelings for Damon unexplored and maybe Damon will end up her soulmate. It's all about the timing, and the timing isn't right for Elena and Stefan.
So … Bonnie. Has she lost it, or is she just showing her softer side? Has her bitchiness all been to cover the fact that she is constantly getting hurt by every event on this show? Somehow, all roads lead to someone Bonnie loves suffering, or being threatened with suffering, which makes Bonnie suffer. Maybe her brave (read: bitchy) face has finally melted off to reveal a broken person who can finally reach out and get the help she needs from her friends. Or Bitches Anonymous.
This and that:
Why was the moonstone in the soap dish mentioned? Is that just to remind us that Tyler's coming back in the next episode?
Yes, we all thought the Damon and Elena kiss was real; now move on.
Poor Finn was such a red shirt; the guy didn't stand a chance.
Caroline would not have been impressed with Klaus's behavior in the least bit. Forcing Bonnie to do the unlinking spell and letting Rebekah torture Damon is not the way to win Caroline's heart. Are they going to drop that storyline?
Aw, geez … psycho Alaric is still there, isn't he? Hiding the stake, ruining the lives of the Salvatore brothers, but keeping a stake for the finale. Who do you predict will encounter the pointy end of that thing? My guess is Elijah, but I hope I'm wrong and it's Rebekah.
Rebekah is such a pathetic soul, honestly. She's so annoying and bitchy, but it's easy to see why. Then she goes and gets all yearn-y for the family she never had, recognizing that the Salvatores do have it … and then she pouts. And here's a picture of the Miss Piggy pout I keep referring to week after week: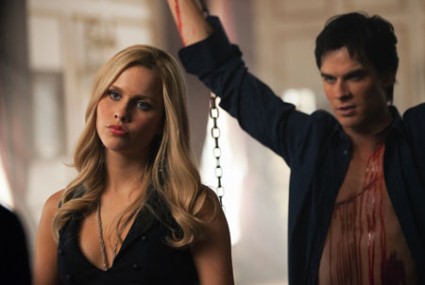 Tell me you don't see the resemblance: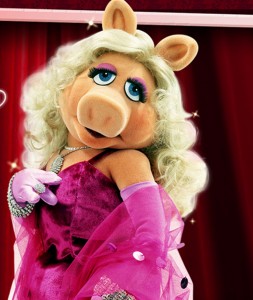 Photo Credit: Quantrell D. Colbert/The CW; Bob Mahoney/The CW