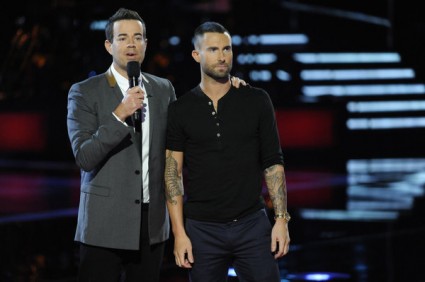 I've never hid the fact that I am a huge supporter of Voice coach Adam Levine. I see no reason to hide an association I'm proud of (and even if I wanted to, I don't think I could hide it after writing columns like this one). But the reason why I speak of him so highly is because he's earned that recognition in my book. He earned it again this week.
I've always said that were I an artist on The Voice and had my pick, I would choose Adam as my coach. It has nothing to do with my being a fan of his; it's solely based on the fact that he has shown me things that I would want in someone who is coaching me. This week I was once again impressed by how he conducted himself, as he went the extra step to support his artists.
On Monday night, after Karla's version of B.O.B.'s "Airplanes" met with mixed results, the show went to its next commercial break. The second that the director said we were clear, Adam jumped out of his chair and headed straight backstage to talk with her. I saw him do the same thing twice more on Tuesday: before the live broadcast started, he went up on stage to give his entire team a quick pep talk, and he ducked backstage again to speak with Kim, Karla and Katrina before their last-chance performances. He didn't have to take the extra time in any of those circumstances. The fact that he did is just another little something about him that I admire. I thought, "If I were one of his artists, I would really appreciate that."
I think that I'm more sensitive to how important those little moments are, because I know from experience how Adam is a great motivator. He encouraged me during our chats in season one, and he did the same thing when our paths crossed again on Tuesday night.
If you weren't with me last season, I was lucky to meet Adam during last year's live shows, and since then he's maintained a supportive presence in my life through all of my challenges. We're not suddenly best friends and we're not in constant contact, but I've kept the kind words he's given me close to my heart and in the back of my head each day. It's important to note that he chose to do that for me, when season one of The Voice had ended and we'd both moved on to other projects.
Having said that, since we hadn't seen each other in person in almost nine months, I was both excited and nervous about chatting with him in season two. Would he still recognize me? Imagine my surprise when he saw me, immediately walked over and swept me into a hug! While I tried to form words after that, he asked me "How are you?" Adam's first words to me in every conversation have always been to ask after my well-being. That's more concern than I've gotten some friends and relatives to show, and I believe that says a lot about his character.
There's just something in him that brings out the best in me; it's hard to describe, but talking to him I just feel safe and feel like I can be myself, with all my flaws or insecurities or hopes or dreams. We talked for a few minutes, he made me laugh, he made me smile, he said more things I'm going to remember for a long time to come. Even with all the things he has going on, he made time for me, and for that I'll be eternally grateful.
I guess the best way to articulate my feelings is to ask you to look at that moment through my eyes: it is a fantastic and profound thing to not only have met my hero, but then to realize that he has a genuine affection and care for me. To know that the relationship goes both ways is something I will never be able to put into proper words.
Regardless, this is my attempt, because I feel that Adam deserves a proper and public thank-you for that moment, and all the other ones I've been blessed to share with him.
That's also the interesting thing about my unique position when it comes to The Voice. It really does feel like I'm a part of Team Adam. I have a coach who extends the same extra time and concern to me as he does to his artists, and I know he's said things that I've learned from. And those artists (past and present) have welcomed me onto their team and shared with me not just the competition, but plenty of banter, lots of laughter, some tears and even a few major life experiences. The only thing I haven't done is gotten up on that big stage and performed with them (though I don't think anyone wants to hear that!)
And it's really moving. To be a part of something bigger than myself and to do so with such wonderful people is a constant blessing, and I'm glad to then be able to share some part of it with all of you.
The journey continues…on to next week!
Photo Credit: NBC
This Post Contains Multiple Pages:
1
2