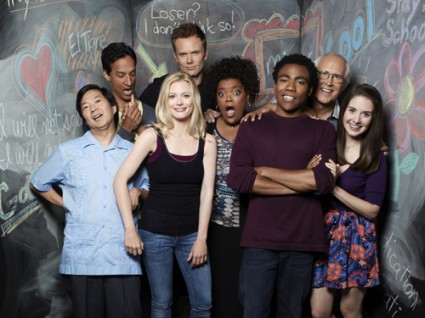 Kay is back Guest-Clacking for us again, after sharing her thoughts about House and its surprises with us last time.
Dear Community,
Oh, Community — how I want to love thee! You're weird, wacky, and definitely off the wall. You've given Chevy Chase by far the most annoying and desperate, yet loveable character on television. You've also given Alison Brie a ballsy, smart, and hilarious role. In fact, for her, I really want to love thee. I tuned into your very first episode to watch her, because I saw Brie on the web series My Alibi. In fact, I cameo-ed on that show! If you look 23 seconds into My Alibi episode 17 you'll see me.
But, the truth of the matter is that I can't seem to love thee. I know the jokes are funny, the timing is wonderful, the cast is perfect, and most of the time it's tasteful, but something just makes me change the channel.
Tonight, is your three-part season finale. It's also the last time you'll be on Thursday nights. Next season, season 4, you'll be on Fridays. I don't know why people don't want to watch television on Friday nights. I know I do! I guess it's "date night."
I think it's really cool that you're doing a three-part finale. I don't think that I've ever heard of a show doing that! Way to go at being a zebra series in a crowd of horses. I commend you for that. Being that zebra is what you've always done best. Community, you're just different and I love thee for that.
Who knows, I might watch a little bit of you tonight, although, I will have to change the channel to watch Touch. I'm sorry for that, but I love seeing the connections everyone has on that show.
The threesome that will be your swan song to Thursday night looks really funny and quirky. You're spoofing North Korea's régime, which is not politically correct and that's OK. There's too much PC in this world as it is.
I'm also glad to see that the exiled Dean is going to be getting some action. From what I've seen, he seems a little inept. He also seems to segregate himself from his students, or at least Jim Rash appears to think that. In a recent article, Jim Rash says, "[I]t's sort of nice to see as the dean get involved with the study group as we try to reclaim Greendale."
Well, tonight, (Thursday, May 17, 2012 ) your last 3 episodes of season 3 air. The first part airs at 8:00 PM EST and then at 9:00 PM and 9:30 PM EST. You can find it on NBC.
Sincerely,
A Respectable Wannabe Fan
Photo Credit: Mitchell Haaseth/NBC