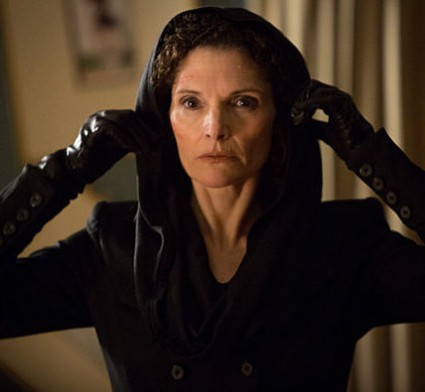 I've seen a few season finales in my day. This one? It ranks right up there.
This was a doozy of a Grimm ender — it was packed with all sorts of action, gave us a few answers to questions and left us with some puzzlers for good measure. It's what the conclusion of a freshman season should look like. You other shows out there? Take note.
Grimm started off intriguingly enough. It bounced us right into the mythology while plodding along at times through the procedurals. But, when all was said and done and the 22nd episode unfolded, Grimm delivered. Grandly. Gloriously. Coming down the wire with last week's episode, we knew there was going to be some fun stuff for us to sink out teeth into … and The Powers That Be didn't disappoint.
So … here we go. Highlights and things to ponder while we take a breath and wait for season 2 to begin:
Adalind is back. Have her Hexenbeist powers returned somehow? Or is she still "just a pretty girl with no true value" as her mother claimed awhile back? (Obviously she still has "some" value, able to concoct a potion to do Juliette in.)
Speaking of Juliette, there was some pretty spiffy drama going on between her and Nick in Aunt Marie's trailer. You could feel the tension in the air while our hero tried explaining things to her. You could tell Juliette thought Nick had lost a few marbles. Now, with her in the hospital, what becomes of her? Will Rosalee be able to discern what potion Adalind worked into her? Is she doomed? Dying?
I wasn't expecting Akira Kimura to get offed so quickly. All that Dragon's-Tongue-Japanese-Imperial-Army-tied-with-the-Akuza monkey business turned out to be moot, didn't it? I was of the mind Nick would have his way with him and be able to extract some information about his parents … and more. But … there was a trade off …
… a trade off in the form of the Woman In Black (Mary Elizabeth Mastrantonio) who turns out to be Nick's mother. (Hello!) Yes! His mother … thought to be killed at the hands of Kimura years and year ago. Spiffy! Can hardly wait to hear that tale!
Speaking of Kimura (a Vesen … did you have any doubt?): Nice kick-ass action between him and Nick, who opened up a can of whupass and wholloped Kimura all around the mulberry bush! Nice Chuck Norris impression, Nick! Been takin' lessons? Where did all those skills come from? And out of the blue, too. I know he's been practicing with Marie's ancient weapons, but he's gone hog wild with the hand-to-hand combat.
No one said it and it hasn't manifested itself quite yet, but … Hank's on his last leg mentally with all the excitement that's been raising its ugly head. Just as with Juliette, there's lots to tell him. Will Nick go down that path, too, as he started with Juliette?
Interesting thing about Renard: He's some sort of higher up muckity-muck in the scheme of things but he can still get his ass kicked unceremoniously like normal folk. Why is that? His is a story I am really looking forward to in season 2.
Righteous episode and definitely something that left me pumped for the sophomore season to get under way later in the year.
See you back here at summer's end when we get going once again!
Photo Credit: NBC