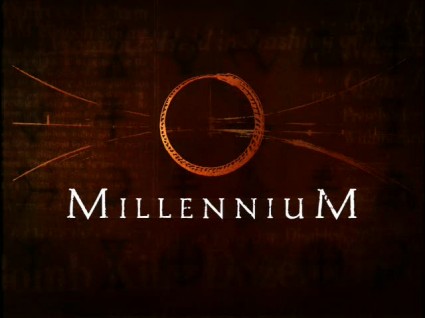 Last year, I thought it would be a kick to revisit one of my favorite television programs, Chris Carter's Millennium. Well, "Life" got in the way and that little project never had the chance to hit the ground running. But! Here we are a year later ready, willing and able to delve into this unique and interesting procedural! A year in the life of this program isn't anything to make it drag; it's still relevant 15+ years after its initial launch. And I'm excited to get cracking at it.
Wondering how I was going to go about doing this "revisit" I came to the conclusion I would advance episode to episode (one to three chapters per post), pointing a finger at some of the unique aspects of the show and/or posing questions or comments about each chapter. Together I figured we could tip-toe through the (dead and dying) tulips and explore.
Millennium was not only much anticipated in its day on the heels of The X-Files, but was beyond anything seen on television at that point. Frank Black (Lance Henriksen) and his family — wife Catherine (Megan Gallagher) and daughter Jordan (Brittany Tiplady) — have come to Seattle, Washington from Washington, D.C. Frank was a top notch profiler for the FBI, but has since quit after a tense, all-too-personal encounter which triggered a breakdown and need to move on. (Some of the details of Frank's decision are revealed in Millennium's pilot.) It's not revealed how, but he teams up with the cryptic Millennium Group, a collection of ex-FBI and other law enforcement officials who have made it their concern to investigate possible apocalyptic goings on in light of the coming millennium. (We learn more and more about The Millennium Group as the series moves forward.)
In the pilot episode, Frank makes contact with one of his old buddies in the Seattle police department, Bob Bletcher (Bill Smitrovich), after becoming aware of a recent and particularly brutal homicide. A stripper was savagely murdered, her fingers cut off and her head decapitated. Frank — with his gift for profiling and ability to "see through others' eyes" — stirs up his friend's department, turning Bletcher's detectives' beliefs on their ears and causing a ruckus or controversy. In the end, interesting twists and turns help to conclusively identify the murderer ("The Frenchman" we first encounter at The Ruby Tip strip club) with Frank unexpectedly  confronting him in the department's forensics facility and the killer ultimatel getting shot by Bletcher.
For me, on its original viewing, there were huge, monster "clues" this was going to be a series out of the ordinary. Of course, the first clue was my giddiness of it being one of Chris Carter's babies. His success with The X-Files (and that show was a success in my mind) led to heightened anticipation Millennium would be stunning and thought-provoking on its own. Throw in Lance Henriksen as the lead (Hello! Dog Day Afternoon, anyone? Aliens? The Legend of Korra?) and I was all over myself. There are a few more, but here's the biggest one:
On the initial viewing, I was too wrapped up in following what was going on in the hour to be concerned with any level of violence taking place in the story. But on a repeat viewing things really kicked into gear for me: Did anyone notice there isn't any real violence in the pilot? Because there isn't. The only point in the show where it raises its head is at the end when The Frenchman tosses that gurneyed corpse Frank's way, then swipes at him with a knife. Everything else is either suggested or the consequences of violence … not violence itself. Calamity's decapitated head is discussed, but we don't witness the actual decapitation … nor the removal of her fingers. The man found in the woods in the leaf-covered box? His eyes and lips (and more) are sewn shut in hideous suggestion of what he went through, but that's it. Frank talks to Bletcher's men at the police station about one of his former cases (a cannibalism) with the killer having added potatoes and onions to the mix. (Horrifying, but it's told … not shown.) Sure, blood came down the strip club's walls as The Frenchman watched Calamity dance, but it was an hallucination. The suggestion of violence, the hinting and discussion of it, caused its consequences to be all the more gruesome and, in so doing, made the initial episode of Millennium all the more special.
Photo Credit: FOX
This Post Contains Multiple Pages: 1
2