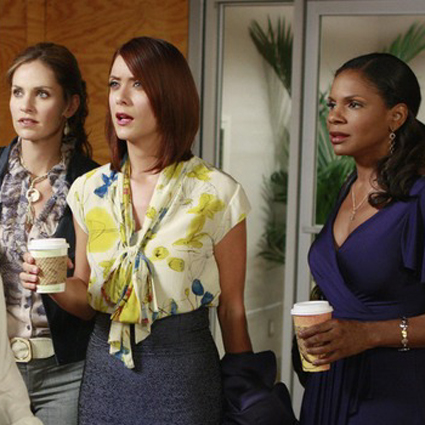 When ABC dropped the bomb that the awesome Tim Daly would not return for Private Practice's sixth season and then Kate Walsh announced she would not return for a seventh season, Jaylen and I immediately started clacking back and forth about our favorite (and least favorite) Private Practice memories.
An: Kate's leaving after this season and Tim won't return for the sixth season.
I think that's smart. It's time for the show to end. After awhile, I can only take the unreality of attractive 40-somethings reliving their second adolescence while refusing to settle down for so long. Also, I stopped watching after Audra McDonald left and the show became even more depressing.
Considering this season has only 13 episodes and Rhimes has Scandal's sophomore year, this is probably it's swan song.
Jaylen: An, I agree. Did you read my column on Audra McDonald? I think that woman is awesome. I didn't watch Private Practice at all this past season. I might have seen maybe half of an episode. It just seems to be losing a lot of steam.
I do find it far more interesting than Grey's Anatomy. Weird, right? I don't know. Maybe I just always thought of it as an underdog. It's time for the show to end.
I think it sucks that Tim Daly is done with it. I never really was a fan of Addison. I'll be interested in knowing if it gets a back order of 10 additional episodes and how the writers will handle the story.
An: Jaylen — Need you ask? I do think Audra McDonald's ten shades of awesome and I thought she left to pursue her Broadway career. I can't believe the show will have six seasons. I also viewed it as an underdog, but it's done well for a bubble show. I loved season one and three, but everything else felt depressing and ridiculous. How many health clinics can these people create with similar sounding names?
Anyhoo, since Addison and Pete won't wind up together, I hope Addison and Sam will.
Jaylen: Yes, too much has gone on regarding the actual practice. I personally liked seasons two and three. Season one seemed to be all over the place. I felt that the writers found their way in season two. I liked seeing a strong black woman in control of her own practice … and then Addison took over. Ugh. LOL Sorry, but I just don't like Addison. Pardon my slang, but I think she's a hoe. How can you sleep with your best friend's ex-husband? No, I hope Addison does NOT end up with Sam. I found that storyline to be repulsive.
Addison needs to be single. My favorite characters now are Cooper and Charlotte.
An: Here's my Sam-Addison justification. During season one Sam and Addison had a connection, but I thought the producers wouldn't let the relationship happen due to race. When they eventually hooked up, I waited for the producers to roll out the "he's your best friend's ex-hubbie" to stop the relationship. Luckily, they didn't (to my knowledge). While I wanted them together sooner, I felt the writers should wait until the final season. Because of their history, Sam and Addie are a forever type of couple. You don't casually date the guy you've known since med school, who married your best friend, unless you're really certain.
I'm not saying women play by different rules, but … do give Addie some slack. Also, if she "hoes" in the dirt, then she's probably an excellent gardener. What's wrong with that?!
Jaylen: Ha! Sorry, we'll just have to agree to disagree. I cannot stand the thought of Addison and Sam. I preferred him with Naomi. They did have chemistry after all. I liked the idea of Addison and Pete. I thought that was cool, and then they went and stuck him with Violet. WTH? I just didn't understand that one. Addison wrecks everything. She doesn't know who she wants. She messed up her relationship with Derek by cheating with Mark. Then she gets to the practice and sleeps with Sam knowing damn well that he's her best friend's ex … and that Naomi and Sam kinda had a bit of an off and on relationship. Then she hooks up with the husband of the patient, comes dangerously close to sleeping with one of Charlotte's doctors, sleeps with Pete, goes back to Mark and has sex with him when he comes to LA which makes Sam jealous, and now she's flirting with Jake?!!! Ugh. That disgusts me.
I try not to judge. It is not my place. However, I believe Addison needs to get herself together. Remember when Pete went off on her about her antics in season four? I was with him all the way. That practice has issues. I absolutely loved it when Naomi told off Addison and Sam towards the end of season four when she asked them what happened to the practice. Hell, with as much shenanigans going on, I would have chucked up the deuces too! Addison needs to spend some time alone to pull herself together. I'd NEVER take the ex-girlfriend of my best friend. I feel as though there are just some lines that a friend is not supposed to cross. To each his own though.
It's funny that the show is built around Addison, yet she's always been my LEAST favorite character. She talks too damn much. Now that Pete is gone along with Naomi and Dell…who I really liked, I don't know what to say about this show anymore. Put it out of its misery.
Photo Credit: ABC