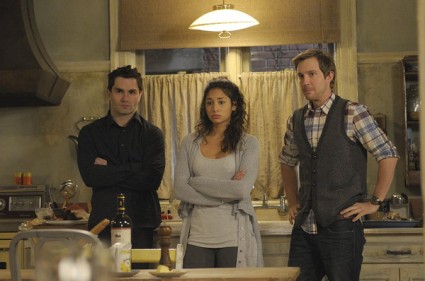 News came out recently that Nikita's Xander Berkeley will be added in a recurring role for season three of Syfy's Being Human, playing the part of the father of brother-sister Connor and Brynn, hell bent on eradicating a whole slew of vamps. His stint will reportedly last eight episodes, after which he'll be dead … well, who the heck knows, but let's be honest, why else would he be gone?
We here at CliqueClack didn't give Being Human the coverage it deserved last season, in particular with episodes reviews. In my eyes, it was mostly attributed to the season starting off just OK, meaning it was handed off to the DVR for later viewing when I had time for it. Once the season ended, though, bro-in-law Bob told us the last four or five episodes really stepped things up big time, and that we'd be rewarded for watching them. Wow, he wasn't kidding.
The latter part of last season was so good that we had a hard time not simply watching all of the remaining episodes in one shot; once an episode ended, we couldn't wait for the next. The season finale ended with multiple, stellar cliffhangers that pulled few punches, and it can only mean incredible things for the show's return.
Based on those few final episodes alone, I, for one, won't be discounting season three as I did for season two. The writers seemed to have  decided to kick things up a few notches, and they had a whole lot of fun in the process. I'm really hoping — and anticipating — that Being Human will have a presence at this year's San Diego Comic-Con (we'll have six Clackers there this year!), as I'm looking forward to hearing a little about what's to come.
Photo Credit: Philippe Bosse/Syfy