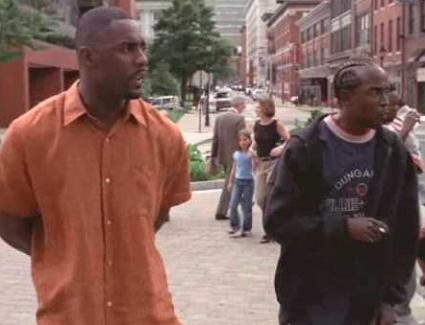 Things are really beginning to heat up in the next two episodes of The Wire. Omar might have pushed a few too many buttons, McNulty's personal life is getting harder, and Kima has an exceptionally bad day.
Click here to check out previous entries in my The Wire Virgin Diary.
Episode 9, "Game Day"
"Thinking about getting clean … again."
It seems like the detail is getting closer and closer to Avon Barksdale and his crew, but not close enough. It's been three months, and this is the first time they've had eyes on him? A big step, too be sure, but it was followed immediately by Avon losing Daniels' tail. Every step they take comes at a cost.
Kima and Freemon, on the other hand, might have had more success than they know in trying to flip Shardene. She's too smart to not realize the world she's living in, but seemingly naive to what is going on around her. If the detail can get to her, and then potentially get to D'Angelo, that could be the jackpot.
But only because D'Angelo seems to be struggling more and more with his own place in the world. I'm enjoying how Wallace's story plays out as a public version of what's going on in D'Angelo's head. Is he going to be the chink in the armor that is Avon Barksdale's organization? I think there's a good chance.
If it wasn't for bad timing, the three months worth of work that the detail has put in would all be for naught. Omar just about took Avon down single-handedly; if it hadn't been for a little interference, Avon wouldn't be a problem for the Baltimore PD any longer.
Episode 10, "The Cost"
"Officer Down, Signal 13!"
Somehow, despite my better judgment, I began to believe that our heroes were safe; safe from a gunshot from a drug dealer, getting fired for drinking on the job … and most of all safe from not being on the show next week. This is The Wire, man! I've got to be smarter than that. I've got no clue if Kima is going to survive her shooting, but it was a wake-up to me. That final scene was brilliant. The cutting back and forth between the different cars, Kima getting concerned, and then the all-out shitstorm when the rest of the team realized she was in trouble. Great television.
I'm a bit worried for Bubbles' sake at this point. Granted he is only three days into a recovery I'm sure he has started may times before. But he asked for help, and Kima promised to deliver. No matter how the story works out, she's going to have difficulty answering his page tomorrow. Will that cause Bubbles to relapse?
I've got no doubt in my mind that this isn't the last that we'll see of Omar. His attempt on Barksdale's life in the previous episode had many consequences; he was right not to trust the truce that Bell offered him. He may be headed to New York now, but it won't be long before something brings him back to town, even if it is in future seasons.
Aside from Kima's tragic shooting — that you know McNutly is going to lay at the Deputy Ops' feet — the detail continues to build a better, larger case against Barksdale's empire. Finding the stash house was a critical piece to that puzzle; getting Orlando obviously was not. Wallace crumbled when he was brought in; will he be the one that gets the detail D'Angelo?
Photo Credit: HBO