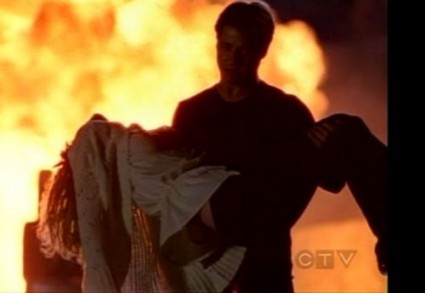 Hello, pop-culture and music lovers! I'll be filling in for Michael and Tara this week as they continue to have a grand old time at the 2012 San Diego Comic-Con. In this week's installment of MusiClack, I'll be focusing on some of the most memorable musical moments in shows produced by power-duo Josh Schwartz and Stephanie Savage.
For the sake of space, I'll be limiting our musical selections to two apiece, from the following shows:  The O.C. (2003-2007); Gossip Girl (2007); and Hart of Dixie (2011).
Before we begin with the depressing and exciting clips I've picked out for you, I must mention a very important name in this industry, who is responsible for much of the musical selection/direction of the three Schwartz/Savage shows discussed here.  Her name is Alexandra Patsavas, and she served as musical director for several epsiodes in all of the aforementioned shows (as well as many others, including Chuck, Mad Men, and Supernatural). In addition, she helped put Grey's Anatomy on the musical map in terms of promoting key songs (such as The Fray's "How To Save A Life" and Snow Patrol's "Chasing Cars"), in episodes and on compilation soundtracks, in order to propel the show's popularity. In fact, an entire post can (and should) be clacked on Ms. Patsavas alone.
But back to the topic at hand: I've chosen clips that, for whatever reason, resonated with me when I watched them. Some of these might be familiar to you, and I hope that I'll provide you with just the right amount of nostalgia/chills to start this weekend off right!
1. The O.C. – "Hide and Seek," Imogen Heap
Episode: Season 2 finale, "The Dearly Beloved"
This is probably my favorite, most chilling moment on The O.C., ever. I love the song (which is also playing at Caleb's funeral at the beginning of the episode), and the expression on Marissa's face after she pulls the trigger and Trey looks at her is one of pure fear.
2. The O.C. – "Hallelujah," Imogen Heap
Episode: Season 3 finale, "The Graduates"
It's purely a coincidence that this famous scene used a cover by the same artist as my first clip. When remembering the usage of this song (which, let's face it, has been grossly overdone by dramas and American Idol hopefuls alike) in Marissa's death scene, I always remembered the Jeff Buckley version for some reason.
3. Gossip Girl – "Apologize," Timbaland featuring One Republic
Episode: Season 1, Episode 10, "Hi, Society"
This was one of those great episodes where the characters struggled with "elite" vs. "everyman" status, and the characters had to choose between dreams and reality. Wait — you say that's the premise of every episode? Oh yeah, I forgot. But this song is great, and the ending pretty much sums up everything. (Except we don't see Jenny, who has her own conflict between her own creative, humble world and being a social climber. But we all know which world she ended up choosing.)
4. Gossip Girl – "Rolling in the Deep," Adele
Episode: Season 4 finale, "The Wrong Goodbye"
Gossip Girl always, always has a great closing scene. Especially in a finale. I don't believe that the bar mitzvah scene that used "Rolling in the Deep" was the last scene of the season; however, it worked perfectly anyway. We so very rarely see Chuck and Blair actually having a good time, smiling unabashedly and ironically, and just enjoying themselves. I also like the effects put on the song, delaying the chorus until several scenes are shown.
5. Hart of Dixie - "Ho Hey," The Lumineers
Episode: Season 1, Episode 10, "Hairdos & Holidays"
This is a cute episode in general, in which Zoe convinces Rose to enter the Miss Cinnamon Cider Beauty Pageant. I like the way the song plays over the pageant scene so that all we really see of the competition (which didn't really matter much, anyway) is a backdrop to the final sequence. When Wade asks Zoe if he can buy her a drink at the Rammer-Jammer, she says that it's been a long day and asks, "Rain check?" which foreshadows their eventual connection in the finale!
6. Hart of Dixie - "Run," Matt Nathanson featuring Sugarland
Episode: Season 1 finale, "The Big Day"
Well, I had to include this Hart of Dixie musical moment, didn't I? Not only does it involve a steamy love scene between Zoe and Wade, but the song has been in my head for, like, three months now, so it deserves to get out there a little bit. P.S.: for those of you who might have not caught the finale, George shows up at the end, putting Zoe in a bind. I love the way this season ended.
So now that I've shared my favorite Schwartz/Savage musical moments, I'd love to hear yours! It was really fun to fill in for Michael and Tara today and clack to you music-style. Have a great weekend!
Photo Credit: FOX