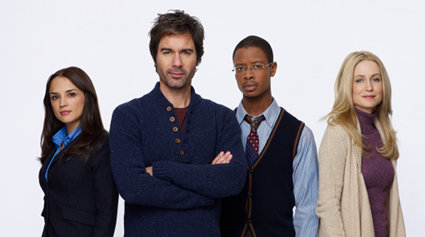 CABLE - Crimetime was the order of the day on cable, with USA and TNT premiering Covert Affairs (3.5m/.9), White Collar (3.2m/1), The Closer (6.15m/.9), and Perception (5.6m/.9). Most notable among those numbers is that despite the fact that The Closer and Perception were premieres, both trailed Rizzoli & Isles (5.52m/1.2) in the demo. That, or the startling realization that you just can't count on Josie And The Pussycats fans like you used to. Unfortunately, for those programmers that love a good murder, chicks still dig the long ball. ESPN bested everything else on cable last week with the Home Run Derby (6.88m/2.7).
Basic

Longmire (4.06m/.7)
Falling Skies (3.64m/1.2)
Army Wives (3.29m/1.1)
The Glades (3.19m/.8)
Drop Dead Diva (2.28m/.8)
Teen Wolf (1.72m/.7)
Eureka (1.5m/.6)
Bunheads (1.44m/.6)
Secret Life Of The American Teen (1.25m/.6)
Lost Girl (.86m/.4)
Franklin & Bash (2.72m/.9)
Pretty Little Liars (2.38m/.9)
Jane By Design (1.31m/.5)
Royal Pains (4.15m/1)
Dallas (3.63m/1)
Necessary Roughness (2.65m/.8)

Burn Notice (4.44m/1.2)
Suits (3.7m/1.2)
Anger Management (2.42m/1)
Men At Work (1.76m/.9)
Awkward (1.72m/.8)
Wilfred (1.35m/.7)
Louie (1.06m/.5)
Single Ladies (2.5m/1.3)
Workaholics (1.49m/.9)
Melissa & Joey (1.21m/.6)
Futurama (1.1m/.6)
The Exes (.74m/.2)
Food Network Star (2.51m/.8)
Pawn Stars (5.11m/1.6)
Deadliest Catch (2.71m/1.2)
Swamp People (5.19m/1.7)

Premium

True Blood (4.5m/2.6)
The Newsroom (2.21m/.9)
Weeds (.61m/.3)
Episodes (.37m/.2)
FOX- As with cable, baseball was the big winner on the broadcast networks as well. The All-Star Game (10.9m/3.2) easily outpaced the rest of the summer competition. The rest of the FOX lineup was crafted from the usual suspects — Hell's Kitchen (6.01m/2.5), MasterChef (5.92m/2.5), So You Think You Can Dance (5.88m/2), Take Me Out (2.99m/1.2), and The Choice (3.04m/1.2)
ABC - Two more premieres — Trust Us With Your Life (3.34m/1.1) and NY Med (5.47m/1.1) — didn't offer much help for ABC. That left both of them looking up at The Bachelorette (8.11m/2.5), Wipeout (4.68m/1.5 – 5.74m/1.8), Secret Millionaire (5.66m/1.5), and Extreme Makeover Weight Loss (4.51m/1.5). Beating out The Glass House (2.8m/1) and Duets (4.73m/1) isn't much to write home about. The other two new entries were Final Witness (4.29m/1.1) and Rookie Blue (4.73m/1.2).
NBC - The latest return of Fear Factor (4.01m/1.4) wasn't nearly as successful as the last one. That put it right on pace with Ninja Warrior (3.99m/1.4). America's Got Talent (10.69m/2.8 – 8.08m/2) again led the way, with Love In The Wild (5.03m/1.2) and Saving Hope (3.22m/.5) rounding out the schedule.
CBS & CW - CBS is on the verge of starting its summer programming schedule. And by that I mean that Big Brother (7.18m/2.6) finally premiered. That's actually a solid start. The other new program was Dogs In The City (4.63m/.9). The CW had no new programming.
Photo Credit: TNT