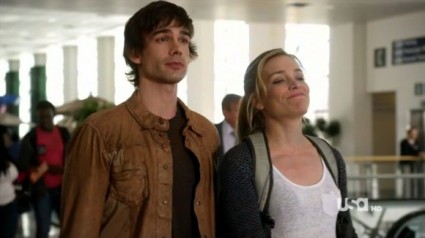 While I love the fact that there are two strong, take-no-prisoners women running pivotal intelligence departments on Covert Affairs, I've got my antenna up, wary for anything that smacks of a "cat fight" scenario which, unfortunately, oftentimes crops up with storylines like this one. Watching women duke it out, instead of work together, is such tired tripe. I'd hate to see this show go in that direction which it hasn't … yet.
You've got Joan Campbell, who clearly feels undermined by involuntarily losing two of her star agents that she made a power play against rival Lena Smith by insisting that Annie and Auggie were so vital to a Barcelona mission that they needed to be pulled away from their new duties. Husband Arthur agreed with Joan and allowed the two agents to enjoy their foray into the field, while he continued to act in his irritatingly murky Arthur way of his, doing odd things like visiting Jai's father in prison with an undisclosed agenda.
Cue Lena becoming understandably irritated that she was big-footed by Arthur and later appeal to Joan to, in the future, simply work with her, although there's nothing simple about the dynamic between Lena and Joan. The situation didn't, fortunately, devolve into a face-off between two attractive women who are unusually fond of sleeveless dresses, but their jockeying for position is likely to be a thread that's there for the duration. What would I really like to see them do with these characters? Have them sit down over drinks and devise a plan to use their talents to take over the joint. That would be a refreshing change.
In the meantime, there was Auggie and Annie who were asked to masquerade as a married couple as, ironically, Auggie had an engagement ring burning a hole in his pocket, one that wasn't for Annie. The whole mission turned into an exposition on their relationship which is more than collegial, obviously.
Annie clearly thought she had plenty of time to allow their friendship to evolve into something else, until Auggie mentioned a marriage proposal and showed her the ring. Her emotional reaction to the news — crushed — seemed to surprise her as she found herself playing the role of Auggie's protector during the mission because, as brilliant as Auggie is, his disability turned out to be a very dangerous vulnerability in the field.  This role reversal made Auggie distinctly uncomfortable and embarrassed after he was beaten on the fire escape, he dropped the briefcase and Annie rushed to help him instead of going after the computer virus. The give-and-take between the two throughout the episode was touching, as was their hand holding after their "first" fight.
As for Arthur, I'd really like to see episodes shedding more light on his shadowy background so viewers would get some inkling as to his motivations and real alliances. It would be nice to have a meaty little something to mull over about this character. Alas, for now, Arthur remains an enigma, the guy who's willing to cut corners, who's not afraid to go rogue and who, out of spite, would prevent a man from attending his own son's funeral. There's more than a hint of ruthlessness in his character that hasn't been explored but, with Jai's murder just after he told Annie that the CIA's system is corrupt, it wouldn't be surprising if Arthur was involved in his demise in some capacity. It seems inevitable that by placing Auggie in Jai's former role, Auggie and Annie will ultimately pit them against Arthur.
What did you think of the Annie-Auggie storyline? Of the Joan-Lena rivalry?
Photo Credit: USA