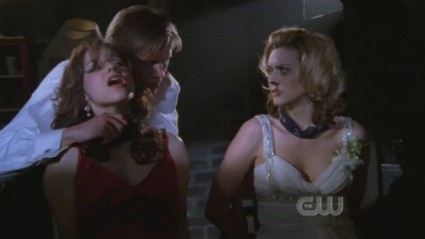 For those of you who said that Season 4 of One Tree Hill was bound to be just as exciting as Season 3 … you were right! In fact, I think this may be the most shocking season yet. If that's possible.
Because so much happened in this season, I needed to organize my Virgin Diary entry a little bit. For this purpose, I'm going to talk about it in terms of a top-10 (or in this case, 15) list: The most shocking moments of Season 4. I'll attempt to do this in order, with the craziest events at the bottom. Here we go!
15. Brooke and Rachel vs. the Math Department
Rachel lies about failing calculus so she can "help" Brooke steal a test. The girls join Clean Teens in order to mask their true intentions for sneaking around the school in the evening. Brooke steals and uses the test against her better judgment, but when she is suspected, Rachel switches tests with Brooke on the sly and takes the blame, resulting in her expulsion. This is the first time we see Rachel acting somewhat valiantly, proving that she is a true friend to Brooke. Another consequence of this whole ordeal is that Haley gets fired from the Tutor Center because she supervised Rachel during her sessions.
14. Haley's Valedictorian Speech
Haley almost doesn't get to make her Valedictorian Speech due to Nathan's gambling. She eventually gets permission to do so, and goes into labor halfway through. (Side note(s): How long was Haley pregnant for? She didn't seem that big, and didn't seem to be pregnant for that long. Neither did Karen, though they both delivered healthy, full-term babies. What's the deal?)
13. Mouth and Shelly defy Clean Teens
Mouth and Shelly get to know each other during a special class project, and then … really get to know each other. Shelly later freaks out and blows Mouth off, only to wear a short leather skirt and tank top to the Tree Hill "moving up" party in the finale. Mouth is devastated.
12. Mouth Runs Away
Mouth decides to escort Rachel as she goes to spend time with her family. But he gets stranded — and later, arrested — in Honey Grove, Texas. Road triiiiip!
11. Open Your Eyes: Keith visits Lucas
When Haley is hit by a car, Lucas has a heart attack from shock and failing to take his medication. During this "transitional" time, he is visited by Keith, who shows him what life might have been like if he hadn't been the person he was. It is during this episode that Keith starts hinting to Lucas that Jimmy was not responsible for his death. But Lucas still has a lot more to figure out.
10. Haley's Pregnant, Not Brooke
After letting pretty much the entire school believe that Brooke has gotten pregnant, Haley reveals to Nathan that it's actually her, not Brooke. And Nathan acts like a douche.
9. Brooke and Nathan's Sex Tape
Even though this wasn't the "most important" event of the season, it was probably the one that surprised me the most! At first I thought it was Peyton, of course, which would have been ironic considering that Peyton was about to sleep with Lucas for the first time upstairs and wanted to do so "the right way." (um, is at a party the right way? Whatever.) But when we see Brooke? Yowza! Great twist, and great development for Brooke and Peyton.
8. Brooke Comes Clean
On graduation day, Brooke approaches Principal Turner and admits that she is the one who stole the math test, not Rachel. This is a pretty big moment because Brooke has a lot to lose at this point, with her fashion line (Clothes Over Bros) getting attention from Victoria's Secret. For once, Principal Turner seems to understand a student's point of view, and he lets her graduate. This was a "mature Brooke" moment — these are pretty rare. Principal Turner also allowed Rachel to graduate in absentia at the ceremony.
7. Peyton's "brother" Derek
I knew this guy was not to be trusted. When he starts to get crazy and he attacks her, it was traumatizing for all viewers, I'm sure. The aftermath shows Peyton in a crazed, sleepless state and is able to gain some of her "fight" back with the help of her real brother, a Marine who teaches her how to fend for herself and take risks.
6. Derek returns: The Prom Stalker
This is when shit starts to get crazy. I had a feeling that when Peyton hears a knock on her front door on prom night, it wasn't going to be Lucas even though we see him driving there. I thought it might have been Jake. But nope, it's crazy fake brother Derek again, and this time he plays out a creepy prom fantasy in the basement. Brooke — you gotta love her — senses something is off and goes to Peyton's house, becoming a victim herself until Peyton tricks Derek into letting her go. Then the two girls pretty much kick his ass. This scene, and the episodes the follow, are important to the series because this is when Brooke and Peyton were not speaking due to the discovery of Brooke's brief affair with Nathan. This binds the two girls closer than ever before. They do research on Derek (whose name is actually Ian) and approach him in jail with knowledge of his past. They leave with closure and vow to never see him again.
5. The Abby Brown Reveal
During one of the "Open your eyes" moments, Lucas remembers seeing a figure behind a window screen while Jimmy and Keith talk in the hallway the day of the shooting. It is revealed that Abby Brown, the girl who was let go from the tutor center due to her need to take her insulin, saw everything that day, including Dan killing his brother. Dan and Lucas search for Abby at the same time and while Lucas wants her to come forward, Dan threatens her family and they run away. This leaves Lucas with the only one with this information, which he tries to convince his family is true.
4. Dante's Revenge
The whole idea that Nathan would even risk his career to borrow money from this weird guy and his ugly-face-making friend is ridiculous, but I could see it happening due to the fact that Haley is pregnant and they need money (and Dan turned him away). Nathan should have known better, and he should have realized that things like this don't ever happen "just this one time." I was happy that he won the game and didn't let Dante have control over the Ravens' state championship. I just guess he didn't realize that Dante would be waiting to run his pregnant wife over with his car.
3. Dan Takes the Fall
Didn't anybody else realize that Nathan didn't kill Dante? He wasn't moving when he pulled him out of his car (which it seemed like he intentionally crashed after hitting Haley). But anyway, Dan stepping in and taking the blame for Nathan's beating Dante was … well, it was the least he could do. It kind of tugged at my heartstrings a little bit, even though everyone knows that Dan is trying everything in his power to make up for his biggest mistake.
2. Karen Passes Out
So, Karen makes out with Dan, and right after that, Lucas come into the house with a gun. Um, help? Lucas seemed incredibly unstable in that moment, and I can understand why Karen didn't — couldn't — believe that Dan killed Keith. Part of it must have been the fact that it's hard to admit that she was wrong in trusting Dan again. After all that time hating him and avoiding his advances, she finally let him in, and now hears this news. It's no wonder she fainted. But it turns out that Karen had  eclampsia, and almost didn't make it through her surgery. (Her daughter, Lily, came out perfectly healthy. Again — Karen was barely showing! How could that have been a full-term birth without any need for the NICU?)
1. Dan Takes the Fall, Part 2
In the finale, Dan finally walks into the police station and admits what he's done. I think it just got to the point where everyone knew: Lucas, Deb, Karen, Nathan. He just couldn't hide anymore. And I was on the edge of my seat when he tried to hang himself. I know (and he knows) that being alive will be worse; he'll have to live with what he did every day.
Did I miss anything? What was your favorite (or most shocking) moment of Season 4 for you?
Photo Credit: The CW