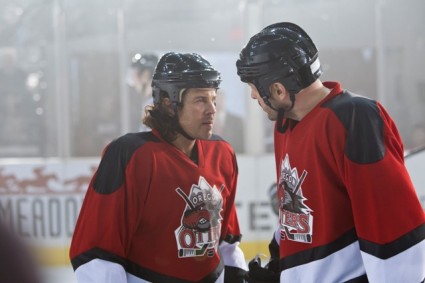 He acts, he fights, he sings, he cooks, and now he plays hockey…is there anything that Christian Kane can't do? Kane's character Eliot Spencer took center stage in "The Blue Line Job," and showed us something else the extremely underrated Kane can make look much easier than it is.
Eliot went undercover as a hockey player this week, in order to protect the enforcer of a local hockey team from being killed just because the villainous owner (a love-to-hate-him Treat Williams) wanted to profit off his fights. It was actually written into the guy's contract that he had to fight in every game he played if he wanted a bonus the owner had no intention of paying him. How messed up is that? But it was Eliot to the rescue, not only physically but talking some sense into the misguided enforcer, too.
As a former amateur hockey player, and someone who has indeed suffered repeated concussions (some of which were a result of the sport), this episode struck me on a personal level. The concerns that were raised in this episode about concussions and resulting conditions are absolutely true, not just in hockey but in other contact sports; this has been a debate in football for years now. It was interesting to see Leverage spin a story from that issue and to highlight the impact it has on individuals and their loved ones beyond the game – but then again, Leverage is all about the human impact caused by the various wrongs our heroes seek to right.
That's where this show has its staying power. It's almost more interesting to watch this group of actors, and the various personas their characters develop, than the actual "how are they going to stop the bad guys" dilemma. In "The Blue Line Job," we saw the more compassionate side of Eliot, and were reminded that he's not just the show's stock muscle. He's a fully-realized character who, while his stock in trade is hitting people, has a brain and a heart that are just as important. I must tip my hat to Christian Kane, who is in my eyes the only person who could play a character with such a versatile skill set this well.
Here's one thing I want to ask, though: is anyone else turned off by the giant TNT ads that like to keep popping up across the bottom of the screen through the episode? I don't need to be reminded that Falling Skies is next at the beginning of every act, especially when I'm already seeing commercial spots for it through the breaks. My short-term memory isn't that bad. But perhaps that's just me.
Photo Credit: TNT