Nikita's Melinda Clarke teases that Amanda's set on revenge
Melinda Clarke from 'Nikita' sat down for a roundtable interview at San Diego Comic-Con to discuss the upcoming third season.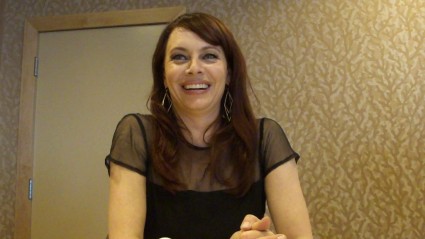 The beautiful Melinda Clarke was funny and a blast to chat with at San Diego Comic-Con. She provided insight into Nikita's  upcoming season three.
Here are some of the topics she discussed:
What's coming up for Amanda now that she is out on her own.
Amanda will be focused on revenge and getting Nikita.
Reflected on the relationship between Amanda and Percy.
The relationships between Amanda and both Nikita and Alex.
Amanda's reaction to Percy's death and that Nikita was responsible for it.
Ideas that Melinda has shared with the writers for her character.
A bad-guy network, "She can have her flock of flying monkeys."
Check out the rest of our interviews with the Nikita cast and executive producer Craig Silverstein which will be posted in throughout next week.
Photo Credit: Carla Day