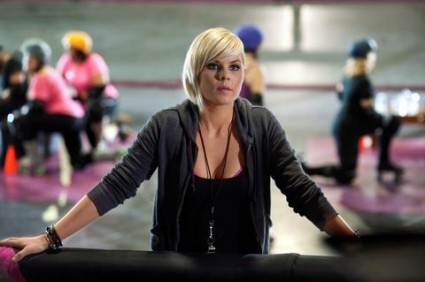 Boatload of character actors this episode!
This time we really only had one big ol' plot in Franklin & Bash, where the guys are being sued by old friend/client/enemy Tammy (Carla Gallo) in what could end up being a criminal case if it's proved they paid her off. Our glimpses of Damien, Pindar, and Carmen were slim this time, although there were a few fun flashbacks with some truly awful hair. And naturally, we see Stanton in flagrante delicto with three random women. Well, he's rich, I suppose. Each flashback was actually a great continuation on the last, but I especially enjoyed the scene of Pindar the Pimp. He deserved it, even if it ended up making him look weak again because character growth is slow on this show.
With only a few twists this time around, they tended to go to the ridiculous. Either it's a fake pot smoking kangaroo costume or a defense focused entirely on the tattoo above Tammy's breast. Even Damien had no choice but to accept his fate with that one. So we had roller girls as obvious way to have women in skimpy outfits (drink!), random cameos for one scene (Dr. Jake Busey), and Jared/Peter cross ethical boundaries as per usual. Drink again. I also specifically like the guest evil analyst using the "catalog" trick and how Jared and Peter were the opposite as kids. Makes sense.
An actually better than usual episode, mainly because it really served its main plot so well, even if there wasn't much advancement of development, at least we filled in some decent backstory. But we probably should stop having so much naked Malcom McDowell. No offense.
Photo Credit: TNT