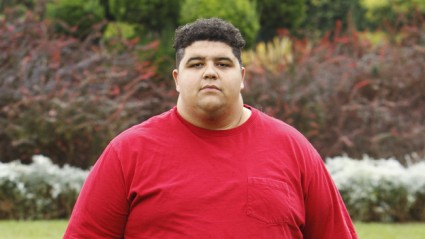 I don't know about you, but I started choking up right from the beginning of this episode of Extreme Makeover: Weight Loss Edition. How could you not feel for Jonathan, the 30-year-old father of two adorable young boys, who could not play for his kids for more than a couple of minutes at a time because of his weight? It made me incredibly sad to see how emotionally upset he was about that, but I also kept thinking to myself that if he knows he's overweight, if he knows he eats too much, if he knows he's putting his life in danger, then why doesn't he take the initiative to do something about it himself? For once, we met someone that didn't have some deep, dark childhood secret that resulted in a food addiction for comfort, so with so much to lose why couldn't Jonathan help himself before turning to Chris Powell (and even that was a crap shoot … what if he hadn't been selected to participate on the show)?
But, as someone who is constantly struggling with weight and dieting, I know that you really need that motivation, that little kick in the pants that a Chris Powell residing in your home for three months can give you. When Jonathan weighed in at 543 lbs. he was shocked, but he was in good hands with Chris (interesting fact — not only does Chris, or the production company, pay for Jonathan's groceries for the first 90 days, they also pay his salary so he can focus on the workout regiment), who set a 135 lb weight loss goal for Jonathan in Phase 1. And with Chris by his side, Jonathan hot the goal on the head and was awarded bicycles for the entire family so he could finally go bike riding with his boys.
For Phase 2, Chris set a goal of 80 lbs but Jonathan had to learn how to deal with getting back to his normal life again. I think that's probably the hardest part for all of the participants of the show. You're almost set up to fail because — as far as we know — they're thrown right back into their lives. That can't be easy. Chris should either stay with them an extra week to help with the transition, or let them get back to their normal lives at the end of his stay so they are mentally prepared for a life without him there every day. And, of course, working an 8 or 9 hour day makes it difficult to do a 4 hour a day workout, even when you start your day at 4:30 AM! But the daily grind and the lack of time with his family, even with the full support of his wife (and we don't know how supportive the rest of the family was since we saw, first hand, their terrible food choices at a local restaurant), not having Chris behind him took it's toll, and Jonathan "only" lost 55 lbs. But, hey, the family still got a trip to Disneyland and Jonathan was able to ride a rollercoaster with his son for the first time (and only take up one seat on the plane to California).
Phase 3 required Jonathan to get below 300 lbs so he could be a candidate for the skin removal surgery, and he managed to really find the rhythm he needed in his life to balance work, exercise and family time, but it took a concerned email from his wife Lisa to Chris, and a training session with the Harlem Globetrotters to help him find that rhythm. By the end of Phase 3, Jonathan surprised Chris, who felt his 90-minute a day workouts were not going to do the trick, by weighing in at 298 lbs! Jonathan was able to get the skin removal surgery, which is medically necessary and not cosmetic, and by the end of his year he weighed in at 277 lbs, with a total weight loss of 266 lbs. In the follow-up, we learned that Jonathan still has a battle with his eating habits but he's determined to stay the course, and I know we all wish him the best of luck.
Photo Credit: ABC