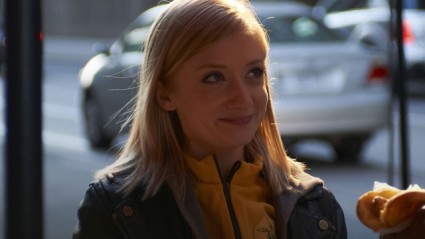 Erin Way (I <3 Vampires) joins the cast as Kat, and Steve Byers (Immortals, Smallville) as John Bennett, new Tactical commander. Other than a little cute flirting with Rachel, Bennett seems a pretty bland addition. I hope he gets out of Nice Guy category, or he's just there to get killed in a few episodes.
In one side-story of the episode, Gary's sad that Anna's dead and takes steps to be more independent, which seems like a good idea. But I have to agree that screaming for ten seconds every morning would be a very unnerving routine and I, at least, would be a little relieved to not listen to it anymore, even if I also sympathize with Gary's mother about his leaving home. Though I also do wonder about the other people at the office — does no one come to work at eight? Because I feel sorry for those people too.
The main story served to facilitate our introduction to Kat, with an Alpha Fight Club (first rule: you don't talk about Fight club or I melt your face with acid spit). I find boxing/underground fighting stories generally dull, and this one was particularly dull since the plot was paper thin. It's only purpose was to get Bill clobbered and gets Kat's attention to train him, both as a fighter and to control his power. Bam! A few words, some calm, and Bill's all better, like magic! There better be a catch to this new regime he has or that was way too easy. His improved mood with his wife was funny, though.
I'm always a little wary when it comes to Kat's sort of character. She has both the Street Waif thing (she is tiny next to Bill and Cameron), that seems to exist purely to let characters snark about how streetwise they are (even when few writers would know streetwise if it hit them in the face), and the Copycat power which tends to introduce plot holes or to become a plot-device as needed. She's cute enough, and I think holds her own, so I have no quibbles with her performance, but it remains to be seen about how they'll use Kat in other stories where they already have a large cast. They've done a good job thus far servicing the characters (though Nina was absent this week), so I'll be patient and see how it plays out. But I think the producers need to take extra care now that she's in the mix. Cameron especially strikes me as vulnerable to side-lining, as a character with a similar function.
The most interesting part of the episode for me didn't involve the introduction of Kat at all, but the flashback-heavy backstory on Stanton Parish. I like the reveal that Parish set it up for Rosen to learn about him, and that Rosen knew that.  I don't know that it really told us anything new about Parish (since his ethical slipperiness was pretty evident already), but period costume is always fun and the knowledge that another doctor had been planning to reveal to the world the existence of Alphas so long ago, was a neat echo to what Rosen himself did. though really the fact that he did it and there wasn't terrible societal freak-outs is itself proof that Stranton's hypothesis is wrong. But wow, Rosen looked very much like a rabbit caught by a tiger there in the cafe; he was hesitant and aware of the danger he was in, even if Parish had no intent to kill him.
In brief: cleaning up from last week, Rosen also told Cameron that he already knew about his relationship with Dani. I like that Cameron went to him, and I like Rosen basically giving his blessing, even if he did sound as if he swallowed some nails. Characters being grown-ups is always appreciated.
[easyazon-image align="none" asin="B005BU3E1G" locale="us" height="160″ src="http://ecx.images-amazon.com/images/I/514EBr01bzL._SL160_.jpg" width="113″ ]
Photo Credit: SyFy-NBCU