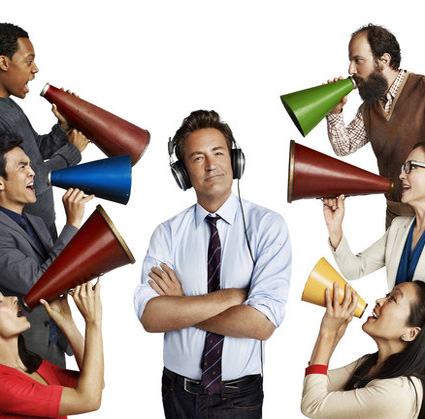 I feel like I'm doomed to dislike every single new comedy pilot this season. Go On is next on my fall season hit list. The NBC comedy surrounds radio sports shock jock, Ryan King (Matthew Perry), who is placed on bereavement leave by his station after his wife's death, pending completion of ten counseling sessions. Unsurprisingly, despite fighting the process, King makes connections with the highly diverse local community support group undergoing similar life changes, particularly the Owen character.
Go On reminds me of everything I hated about Community's pilot. It featured the good-looking, smart alecky white guy, and the too-obvious love interest, who bonds with and leads an island of minority misfit toys. Luckily, Dan Harmon realized that schlock didn't work and revamped his show to the three-season awesomeness we previously witnessed. Considering this will probably serve as Community's final season, I sense NBC wants to fill the void in advance. Unfortunately, appropriating a template that didn't work until Harmon re-booted it isn't the way.
I loved Matthew Perry in Mr. Sunshine and I looked forward to Go On as I thought it would pull from the cynical snarky nature that Perry has crafted over the years. But, in Go On, the snarktastic personality is no longer a comfortable coat. Instead, it is a shellacked armor that Perry pulls on far too easily, making it hard to see the emotions beneath.
The moments that felt true were the silent, unexpected moments when NBC didn't try to hit us over the head with the characters' over the top personalities. The mini-montage and Owen's self-declaration all worked, but everything else seemed too much and too focused on the entertainment factor provided by each character's personality, instead of embracing the dramedy. Maybe that's my problem with the pilot. The episode didn't have a focus other than showcasing the entertainment factor. It felt too shiny, too glossy, too happy and too determined to avoid revealing any emotions save in small, saccharine-oriented doses. Yea, it's a comedy. But, it's a comedy about death. It's OK if we feel something every now and again.
Go On features a strong, established cast including John Cho (Star Trek, Harold and Kumar Go To White Castle), Laura Benanti (The Playboy Club) and Bill Cobbs (OZ: The Great and Powerful, The Drew Carey Show, JAG). Like every single other comedy I panned this season, Go On has promise. But, it needs to let its supporting and its lead characters feel. It's OK if the writing displays uncontrolled emotional messiness that doesn't fit into a "more you know" bow. Although I like Matthew Perry and the featured cast, I didn't like this pilot. It was too tightly controlled and too designed to make me feel, without letting me feel. But, who knows … Community grew out of its one-dimensional template, maybe Go On will as well.
Go On premieres Tuesday, September 11th at 9 PM EST on NBC.
If you're interested in seeing the pilot before it premieres on network TV, check out the episode on Hulu.
Photo Credit: NBC