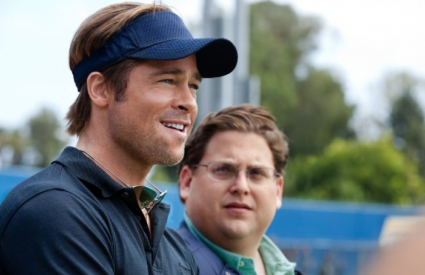 It's kind of funny to think that Brad Pitt has only been nominated for an Academy Award for Best Actor once: for The Curious Case of Benjamin Button (he also picked up a nod for Best Supporting Actor for 12 Monkeys). His turn as Oakland Athletics General Manager Billy Beane in Moneyball will earn him another nomination, and he has got a great chance of finally winning. I've not read Michael Lewis' book, but I suspect where the source material was focused on the story of the A's, the movie is more of a character piece about the man behind the story.
The broad strokes are simple enough. Oakland doesn't make the revenues to compete in free agency with rich teams like the Yankees and Red Sox. Beane tries to change the dynamic by hiring Peter Brand, played by Jonah Hill in a rare dramatic role, a numbers guy who wants to use a computer program to build a team. This doesn't go over to well with the baseball purists on the staff, especially coach Art Howe (Phillip Seymour Hoffman). After some stumbling around, the A's manage to have a pretty good season, but good enough to surpass the previous year's playoff loss? Well, that would be telling (or you could Google it).
What makes Moneyball great is Pitt as Beane. The story includes flashbacks to his disappointing career as a player; he was THE can't miss prospect out of college, and that experience clouds his opinions of traditional baseball scouting, even though that's how he got his start in management. Also central to the fabric of who this man is the relationship he has with his daughter. His fear of failing has less to do with proving his system, and more to do with not wanting to disappoint his daughter. Even in Beane's final choice in the film, he continues down a path that is completely logical for his character.
It would be hard to talk about Moneyball without mentioning how awesome Hill's performance was as well. He was understated, which was exactly what the role called for opposite Pitt. The role wasn't without its funny moments, but Hill really played a different type of straight man newbie to Pitt's experienced baseball wonk.
I was also a big fan of Kerris Dorsey, who played Beane's daughter Casey. Her song that she sang for her father throughout the movie reminded the audience each time how Beane was grounded and connected to his daughter. Pitt deserves the accolades he'll get for his performance, but it would have been incomplete without Dorsey and Hill to work with.
There was one thing that I was a little disappointed with, however. I've always been a big fan of Aaron Sorkin's writing, and I was looking forward to hearing his distinctive style of writing in Pitt's performance. That wasn't to be. I'm not sure how Sorkin's participation manifested itself in the finished product, but it wasn't what I was looking for. This disappointment isn't meant to disparage the writing, which was phenomenal; it just wasn't what I was expecting.
Photo Credit: Columbia Pictures