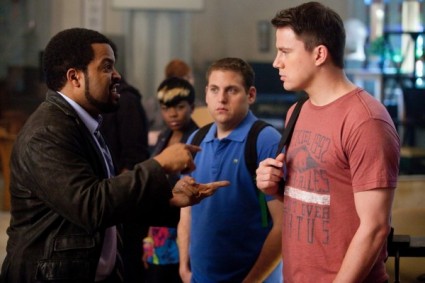 Sometimes when you think of the quality of a comedy, it really does come down to how often you laughed, as just that point of "Well, at least I was chuckling a bit." But occasionally a comedy can transcend the barrier of mediocrity and become more interesting, if not great. 21 Jump Street doesn't quite do that, but it gets close.
The movie starts with high school several years ago, with nerdy Schmidt, played by Jonah Hill (The Sitter, Moneyball) having a difficult time in high school, while Jenko, played by Channing Tatum (Haywire, She's the Man) is a popular, if not terribly smart, jock. But after graduation, the two end up in police academy together and become unlikely friends, as both are for the most part, adults … sort of. But neither is a very good cop, with both being responsible with perpetrators going free due to amusing inadequacies that are later paid off in the movie in predictable but still funny ways. So they are sent off by their commanding officer (an always hilarious Nick Offerman (Parks and Recreation), who was also in Casa de mi Padre this week) to join a program at 21 Jump Street, where their mostly youthful looks will allow them to go undercover at a local high school to bust a local drug operation. Under the watchful eye of self-proclaimed stereotype Captain Dickson, played by Ice Cube (Friday, Are We There Yet?), they will act as brothers to save the proverbial day.
But due to a hilarious plot twist (I'm not being sarcastic this one time), their cover identities get switched, and Schmidt must play the athlete left behind two years, while Jenko must act as the honors student. Even their perceptions of the social mores of high school conflict with the new world of teenagers, where anyone can be popular, regardless of race or sexual orientation — well, assuming they're not ugly, of course. That much still hasn't changed. So Schmidt tries to infiltrate the suspected drug pushers, led by Dave Franco (the Scrubs spinoff season and James Franco's younger brother), and have a confusing and problematic romantic arc with technically legal and 18-year-old Molly, played by Brie Larson (Scott Pilgrim vs the World). At the same time, Jenko has his own issues, troubled by his inability to contribute to the investigation and lack of connection to the new popular.
There are some very amusing supporting performances in the film, including Rob Riggle (NTSF:SD:SUV) as a gym teacher, and Ellie Kemper (Bridesmaids) as a science teacher confused and flustered by the overly manly Channing Tatum in her class. It's interesting that the movie is from Phil Lord and Chris Miller, who are better known for such animated work as the underrated and brilliant Clone High, and the fairly well received Cloudy with a Chance of Meatballs. In some ways, this movie reflects their madcap animated style, but is many, many times dirtier, with a heaping helping of bad language and adult situations (not much nudity, though).
But the stars of the film are, shockingly enough, Jonah Hill and Channing Tatum — Jonah Hill is consistently funny and occasionally emotionally connected, while Channing Tatum has the best work he's probably ever done. In this movie, his wooden expression and limited delivery work with the story instead of against it. Remakes are a tricky business, and sometimes the best bet is to go an entirely different direction — in this case, it works, as 21 Jump Street is the funniest movie of the year so far, with the major complaint being that it's a bit too long. I'd say that's pretty good.
Photo Credit: Columbia Pictures