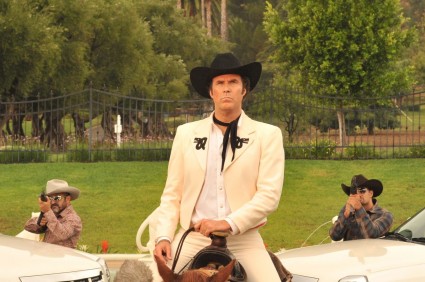 So full disclosure: I am not a native Spanish speaker. Nor am I that familiar with the somewhat offensively named "Mexsploitation" movies of the 1970's. But I think I "got" Casa de mi Padre just fine.
In this latest comedy (directed by Funny or Die's Matt Piedmont) with Will Ferrell (Megamind, The Other Guys), which is essentially entirely in Spanish (with subtitles), he plays Armando, a sensitive soulful rancher in Mexico, gallivanting about with his best friends, played by Efren Ramirez and Adrian Martinez. And yet, his father (the late Pedro Armendáriz Jr.) is only proud of elder brother Raul, played by Diego Luna (Y Tu Mamá También), who has just returned from business with new fiance Sonia (Genesis Rodriguez). But naturally, it's not so simple, as Raul has gotten mixed up with evil drug dealer Onza, played by Gael García Bernal (Y Tu Mamá También … also).
In a surprise to hopefully no one watching, Armando and Sonia share a deep connection, but Armando has a terrible and sad past. Obviously. Will Will be able to get past his past and save the day? Probably. This movie is intentionally bad, with overacting, bad editing, awful special effects, and even occasional sound errors. The question is whether or not this is funny and bad or just bad — the answer: Most of the time it's funny. The movie is reasonably funny, with most of the joke entangled with its conceit of intentionally terrible. In much the same manner of Robert Rodriguez's Machete, this film is both a parody and homage
Will Ferrell is his usual ridiculous self, not as good as his best (Anchorman: The Legend of Ron Burgundy) but far from his worst (Land of the Lost) — and the fact that he doesn't use English means he's more limited in his capability to play up to the cameras. So it's a more subtle comedic performance — but don't get me wrong, it's Will Ferrell comedy subtle, not Will Ferrell Stranger Than Fiction subtle. The other actors do varying sorts of performances, with Raul and Onza being played mostly straight, with vague senses of pathos, and others being more over the top — Sonia specifically with an vampy lovelorn approach. In general, the movie is quite funny, if this sort of incongruously awful quality is something you find amusing. And it probably has the funniest sex scene since Team America: World Police.
Whether or not that sounds amusing is probably a good test if you'll like this movie at all.
Photo Credit: Pantelion Films