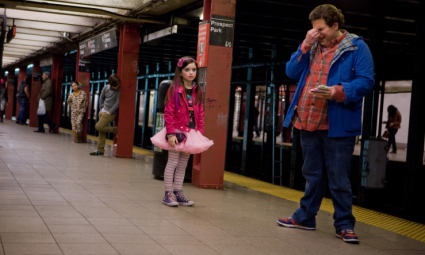 The Sitter is the latest Jonah Hill (Moneyball, Superbad) R-rated comedy, this time sharing the screen with a bunch of kids. Keep in mind that this is Overweight Jonah Hill ™ so that lends itself to much of the "Oh, that hapless big ol' fatso! He's gotta be incompetent with people and women, he's just so very, very fat! It's simple logic." Hill plays 20-something college dropout Noah Griffith who is unemployed and living with his mom — now I know what you're thinking: "That sounds like every Jonah Hill character or at least his archetype!" To be fair, he hasn't had the role 100% of the time, just like … 90% of the time. This time, he also has a girl that's stringing him along named Marisa, played by Ari Graynor (Mystic River), who is just awful.
Anyway, this time around it's a simple story, as old as the 1980's classic Adventures in Babysitting. Noah's father had an affair and remarried, leaving his mother alone and divorced — so when a chance to hook up with a surgeon at a fancy adult party comes up, she jumps at the chance. But there's a last minute snag: the mutual friend's babysitter has gotten quite sick, and that means no older mother date. Sad. So even though Jonah is a male in his 20's and kind of a jerk, he wants his mom, played by Jessica Hecht (the lesbian ex-wife from Friends) to be happy (that's called "early movie humanizing of an otherwise scumbag protagonist, thereby setting up his eventual redemption over the course of the film"). It's actually quite common.
As can be expected, the kids are a set of nutty weirdos, from oddly neurotic oldest brother Slater, played by Max Records (Where the Wild Things Are) and sister Blithe (Landry Bender), who though just a little girl, dresses like an MTV "reality star" with too much makeup and inappropriate language. Oh, and don't forget the bizarrely incongruous Rodrigo (Kevin Hernandez), a foster kid from Mexico who's been adopted for some reason. And he likes blowing things up — it's hilariously racist (this is an accurate description of much of the movie).
But just as you think, "Ah, so it'll be zany nonsense in the house and we'll all learn a valuable lesson at the end," Noah gets a call from his quasi-girlfriend Marisa, who offers up some hanky-panky if Noah merely picks up some illegal drugs from her dealer. Well, Noah isn't so irresponsible as to just leave those kids by themselves, so everyone into the van! This is when the actual "adventure" begins, as things don't go over quite well with drug dealer Karl, played by Sam Rockwell (Cowboys & Aliens, Teenage Mutant Ninja Turtles) and his sidekick Julio, played by J. B. Smoove (Curb Your Enthusiasm). So now you're thinking, "Ah, so it'll be zany nonsense outside of the house and we'll all learn a valuable lesson at the end." And you'd be right.
Don't expect this movie to be that original or clever, but it does have its share of vulgar and obscene laughs. There are some uncomfortably near-racist elements that will probably not be noticed by most people, but several plot points derive from basically offensive caricatures. As usual, juxtaposing adorable children with horrific language and situations leads some comedic potential, but that's basically the entire joke. So the movie isn't terrible, but it's hardly great — it's a decent time waster.
Photo Credit: 20th Century Fox