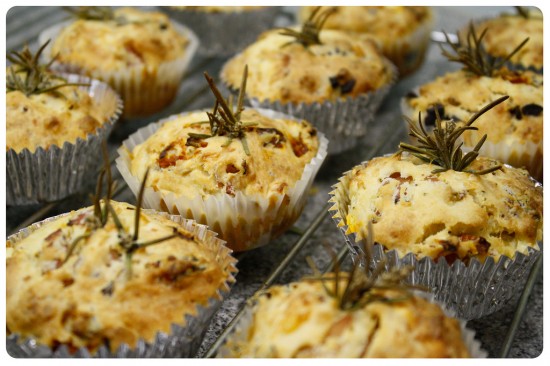 I bake a lot of breakfast muffins. You know, you've seen the recipes:
I've even ventured out into the savory muffin territory which was a really, really good idea. I've been thinking a lot about savory muffins because we don't like to use too much sugar if we can help it (though I do use all-natural sweeteners like palm sugar and agave syrup) but also because I've got myself a good case of the cheese cravings. There's nothing like a cheesy muffin and right about now, I really want to sink my teeth into one.
So I've done the next best thing — I've virtually sunk my teeth into nine instead. Cruising the internet for savory muffin recipes brought on about as much salivation as an actual muffin would. Let me wipe my chin and share some of the recipes with you.
These savory mini-muffins, with goat cheese, red onion and rosemary, would go perfectly with a frittata stuffed full of fresh herbs and tomato slices.
Bacon, cheese, buttermilk and Canadian bacon combine in these savory breakfast muffins. How do you think biting into a big chunk of bacon while eating a muffin would be? I'm on the fence, but I think I could get used to it.
These savory muffins sport two kinds of cheese and garlic and a pretty high ratio of egg to batter. I'm thinking they'd be like a flour-y quiche.
When I think about baking with zucchini, I think about molasses, cinnamon, nutmeg … but not dill weed. These dilly zucchini muffins take a different approach, and add in a whopping amount of ricotta cheese while they're at it. Suffice it to say that I'm interested by these muffins. They intrigue me.
Hmmm … dill weed's coming up again in these cheesy herbed muffins. Maybe it's a thing that no one told me about. What attracted me to this recipe, though, was the onion, garlic and mixed herb topping that you sprinkle on before baking. These just seem so … fresh.
Cheesy sweet potato muffins … now that's what I'm talking about. Grated sweet potato and gobs of cheese are spiked with paprika. Holy yum, that combination is clearly my favorite. I never would have thought of that but the uniqueness has got me running for my muffin pan.
Now wait a minute — these pumpkin cheddar muffins may have just trumped those precious sweet potato yummies. Dude, they've got a savory streusel topping with cayenne and pumpkin seeds, and the muffin itself includes pumpkin, cormeal and roasted poblano peppers. These have just moved from breakfast to brunch and I've invited several friends over.
Reading these savory muffin recipes has officially begun to hurt. How is it possible that they just keep getting better and better? Just Bento's got not one but two savory (vegan) muffin recipes that are causing me physical pain: pumpkin miso and carrot-onion-hazelnut. Come on! Who thinks of these recipes?
If I don't stop now my drool will ruin my laptop, but I'll definitely be making some savory muffins — soon!
Photo Credit: a little tune / Flickr