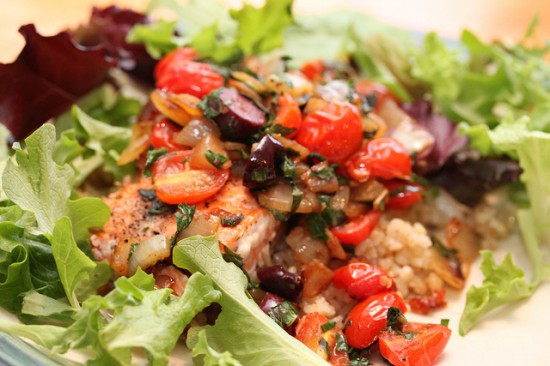 One of the easiest recipes I've made lately is this chilaquiles casserole. I made it pretty close to the directions, only I substituted goat cheddar for the regular. My only real complaint is that I didn't love the enchilada sauce. Maybe it's the brand I bought, but the next time I make this, I'm inclined to use chopped tomato instead and a can of fire-roasted chiles. Maybe it would need some cumin and a little lime juice as well, but I'm definitely playing around a bit the next time.
This slow cooker Turkish lamb stew was delicious in every way and even better the next day. What I like about it is that it wasn't all about the lamb. You could probably substitute any meat and have it be wonderful, or leave it out altogether for a fabulous vegetarian dish. I also love that there's potato in it so it is a really hearty one-pot meal — you don't even need to make rice or quinoa or anything. Lazy cooks, rejoice!
Another easy and delicious dinner was this pork tenderloin with apples. I used Pink Lady apples (our very favorite), but I'd definitely use more than the recipe called for the next time, since the 6-year-old gobbled them all up! The gravy didn't turn out well at all, though. When I cooked the apples, they didn't leave many pan juices and the broth and wine never reached boiling in the oven, so I think those two things may have been a factor in my watery gravy. It tasted fine but was really nothing more than pan juice; it never got thick like melted ice cream, as the recipe says. I served it with sweet and sour cabbage wedges and it was a lovely meal.
I used this recipe for Nat's oven baked zucchini sticks on zucchini and eggplant and it was a wonderful flavor. However, I really can't believe that I'm the only person (out of the reviews anyway) who had trouble making the crumbs stick. I ended up dipping the veggies in egg and then it worked great, so the next time I make this, the egg's a must. No, it didn't get my zucchini-hating 6-year-old to eat it like I thought it would, but we're definitely trying it with a vegetable he does like, just for fun. It's a great substitute for tempura and I'm all over broccoli and cauliflower the next time.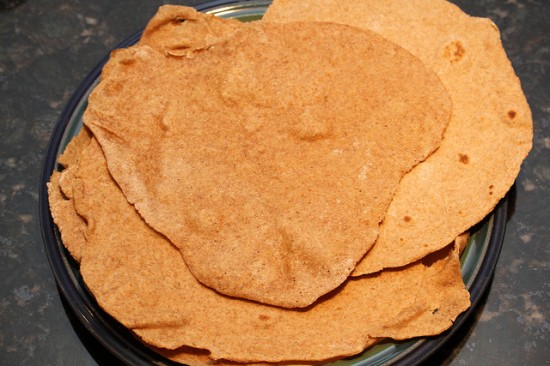 These spelt flour tortillas really are as good as all the reviews say. We used them to make Italian quesadillas and when I finally get around to trying Jamie Oliver's Sloppy Joes recipe, I'll use there tortillas.
We made these pear wedges with prosciutto and mint as an appetizer one night when we entertained my parents. I diverged slightly from the recipe, using pureed fresh pear instead of pear nectar and adding some salad greens. We all really liked the combination of the flavors and it was such a fresh, simple recipe.
This Tuscan salmon with rosemary orzo was easy enough for a weeknight meal, yet special enough to serve to company. Since we don't eat wheat, I made the rosemary orzo with brown rice instead, and I can tell you that I will definitely use this simple, flavorful technique for sprucing up rice often. Another tip about this recipe — you don't have to pan sear the salmon. There's no need to cook the fish in the same skillet as the sauce, so if you'd rather grill it (or George Foreman it!) then go for it. All of the fresh herbs mixed with the sweet grape tomatoes and salty olives made the perfect sauce, and since we don't often serve salmon this way, a special treat.
Photo Credit: Debbie McDuffee