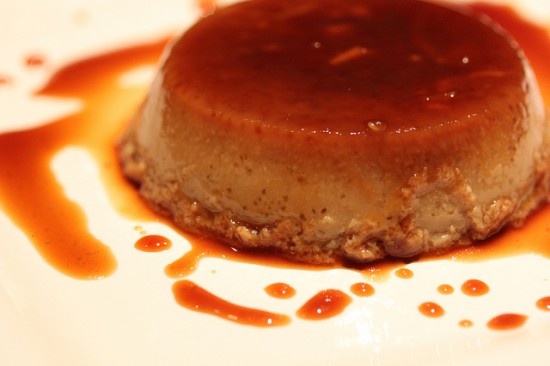 By now, if you've been reading CliqueClack Food for any length of time, you've probably figured out that in the McDuffee household, we eat slightly … how shall we say … off center. No refined sugars, no wheat, no cow dairy — that can put a damper on desserts. Somehow we do just fine, as evidenced in the above picture of a gorgeous coconut milk flan that has become one of our favorite go-tos.
We use this recipe for coconut milk flan from a blog with an awesome name: Spilt Wine and Sticky Rice. Actually, it's mostly awesome, but the part about the wine being spilt is a little bit sad.
Regardless, this recipe is wonderful in its simple perfection. Perfect except for one little thing — the refined sugar. We went out on a limb and tried the recipe using the amazing coconut palm sugar that has completely changed desserts for us. Imagine, a truly unrefined sugar that won't wreak havoc on your blood sugar levels, that's full of nutrients and tastes great. Palm sugar is it and leaves Sucanat in the dust. My nutritional kinesthiologist says so, and that's all you really have to know about it.
The caramel comes out so thick and syrupy, it's almost as if you used molasses, yet the taste isn't quite so overpowering. We've actually made this recipe with evaporated cane juice in the past (shhh … don't tell), thinking that it wouldn't work with palm sugar, and we were wrong: it is infinitely better with palm sugar.
I just ate the last one … no more leftovers. The sun somehow shines not quite as brightly today.
Photo Credit: Keith McDuffee