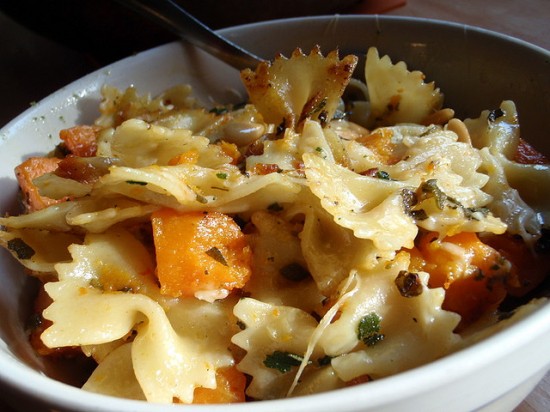 Oh, how I love Mark Bittman and everything he stands for. Simple, real food that tastes fabulous. Make perfect sense, really. One of his recipes just worked for me this week — I had all of the ingredients either in the fridge or freezer, so multi-grain pasta with butternut squash, ground lamb and kasseri was officially on the menu. Well, not quite officially, since my version was more of a brown rice pasta with pumpkin, double the ground lamb and feta. But close enough. There is not a doubt in my mind that we will make this recipe again. It was really, really tasty, easy to prepare and hearty and healthy and the kind of meal that makes you happy there are leftovers for lunch tomorrow.
Jump from the classy Mark Bittman to this Good Housekeeping recipe for red-cooked chicken with stir-fry vegetables, clearly devised to make the average housewife feel like she was cooking something classy. Perhaps not exotic enough to serve at the royal wedding or even to guests, it was a delicious middle-of-the-week meal … pretty much just dump everything into your slow cooker, add some vegetables at the end, sprinkle with chopped scallions (see, now there's that classy touch again) and enjoy. I did serve it with some brown rice which sopped up the sauce in a most lovely, if not classy, way.
I've got to be honest — as far as recipe test drives go, this one had to be the worst effort ever. I didn't have a whole lot of the ingredients in this crock pot Asian beef with mandarin oranges — including the oranges — but I persevered anyway. No beef broth, so I mixed chicken broth and red wine 50/50. I tossed a little orange juice concentrate into the liquid since I didn't have the mandarin oranges. Several other omissions or substitutions later and … it was delicious! I know it would be better with bok choy instead of broccoli (which got mushy in the slow cooker even though I added it toward the end) and the crunch from the water chestnuts would be most welcome, but all in all, this one's a keeper.
Photo Credit: joyosity / Flickr