It's time to give Destiny's Child's Michelle Williams her props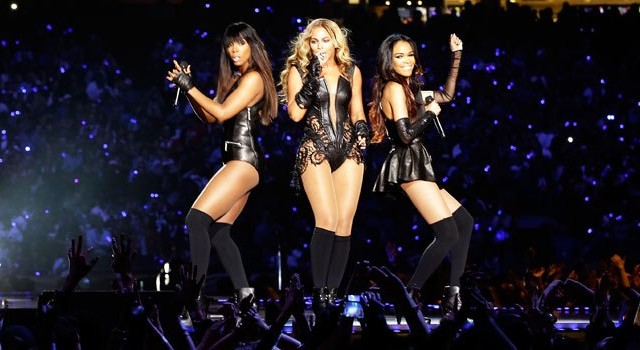 Haters gonna hate. No one knows this better than Michelle Williams. In this week's Clacking in Color, the groovy column about ethnic diversity in Hollywood, writer Jaylen Christie gives the singer much due credit for doing great during the Super Bowl performance with Beyonce!
Say what you will about Michelle Williams, but I think that the chick is awesome.
When it comes to professional sports, football has never been my thing. Try as I might, I just can't seem to find it as remotely enthralling as I do the NBA or, for that matter,
The Real Husbands of Hollywood
. Still, that damn sure didn't stop me from tuning into the Super Bowl to enjoy superstar Beyonce's super stunning performance during half time. Yes, the sister was
super
, but that's not what this week's
Clacking in Color
is about. No, I want to talk about the former members of Destiny's Child, the ones that popped up for five minutes to help Beyonce sing — namely one in particular.
Alright, old school Destiny's Child fans. This one is for you.
Say what you will about Michelle Williams, but I think that the chick is awesome. I've always had a thing for Williams. Perhaps it's because I've always seen her as a bit of the underdog of the group. Oh, how I remember when she was brought on way back in the early 2000's as one of the replacements for two of the group's original members. If anyone can remember correctly, it was Beyonce who was doing all of the singing back then. Williams didn't really get a chance to shine until she was given the opportunity to display her vocal talents — usually being tasked with singing the bridge of such hits as "Survivor" and my personal favorite, "Bootylicious."
Now, I'm not even going to front — her voice is a little different from Beyonce and Kelly's which is fine by me. Hell, this column is about diversity, you know. Michelle Williams has the kind of sultry raspy voice that could do wonders for uplifting inspirational songs or entertaining jazz numbers. In my humble opinion, her turn on "Stand Up for Love" eclipsed both Beyonce and Kelly's verses. Still, that doesn't seem to keep the haters from talking negatively about her.
Last week, I wrote a column on Hispanic actress Justina Machado and how it pays to be an actor and not a celebrity. I mentioned how celebrities can attract a crap ton of negative attention even when they've done absolutely nothing wrong. Well, I think this is what may have happened with Michelle Williams. When you're in the spotlight as much as she was during her Destiny's Child era, sometimes you can get disapproving attention from downbeat fans … or even unruly singers such as Keyshia Cole who took to Twitter to negatively bash Williams for her performance during the Super Bowl.
Who the hell is [Keyshia Cole] to talk?
Folks, I have a problem with this for two reasons — one, in all honesty, Williams really wasn't half bad. I mean, let's keep it real — Beyonce Knowles and Kelly Rowland ooze sex appeal. Quite frankly, I thought Rowland was the best looking thing up there during the half time show. Williams tends to be a bit more conservative, a bit classier if you will. I think it's a nice little counterbalance. She kept up with Beyonce and Rowland nicely and looked damn good doing it. Now, my second reason for having a problem with Cole's rude tweet is really simple.
Who the hell is she to talk?
I mean, seriously: Was that tweet necessary? Maybe she was drunk. Perhaps she was high. Or both. Either way, the comment was uncalled for and I feel it kind of reinforces this negative stereotype of women being catty … especially women of color. I'm looking at you, Nicki Minaj and Mariah Carey! As for the remaining Williams bashers — ya'll 'bout to get off my dawg. She was on stage. We weren't. She got paid a crap ton of cash. We didn't. Hmm … next paragraph.
Growing up, I used to have aspirations of making it big in Hollywood, but now, when I hear stories like Cole's negative tweet, I rethink those aspirations. You have to have tough skin to be a performer and I'm sure Williams does. It's nice to know that her fans rallied in her defense. What people need to realize is that everyone is different. Clearly the woman has talent if Beyonce chose her to be in the group. So, what's the big deal anyway? Instead of hating, shouldn't we just give Williams her props? If you won't then I certainly will. Way to go, Michelle! It was great to see you back on stage! Now go cash that damn check, sistah.
And let me hold twenty dollars.
Do you enjoy reading Clacking in Color? Jaylen sure as hell hopes so. Keep up with his opinions and ponderings by following him on Twitter @thesuperflynerd!
Photo Credit: Dawn Entertainment