The Real Husbands of Hollywood is right on time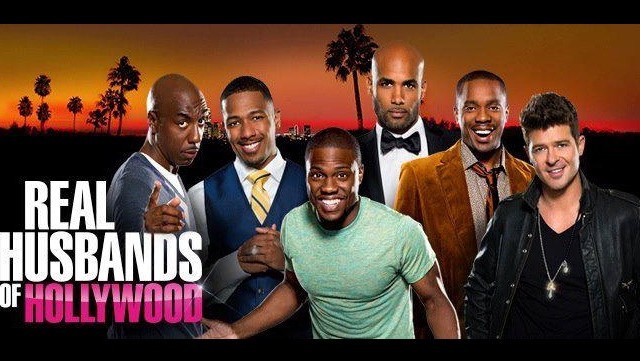 Get ready to laugh with BET's 'The Real Husbands of Hollywood'! In this week's Clacking in Color, the funny column celebrating ethnic diversity in Hollywood, writer Jaylen Christie praises BET's new reality show for spoofing other reality shows.
Whenever I hear the word "ratched" — a slang term that essentially means pathetic or awful — I tend to think of bad reality television shows. Oh, who am I kidding? Every reality TV show is pretty bad. It's a shame, really. Try as I might, I just can't seem to get into them. I just feel that if I wanted to be subjected to trash, I could easily visit the local dump … or schedule a casual date with Lindsay Lohan. Okay, that wasn't nice. I take that one back.
Speaking of awesome, did you hear about the show's cast? Prepare to laugh, people.
Anyway, I think you guys get my point. Reality TV equals rubbish. So, imagine my joy at discovering that the folks at BET Networks have teamed up with funnyman Kevin Hart to put together a reality show that is fundamentally a spoof of other reality shows. Can you say genius? Ladies and gentlemen, I can't tell you how much I am looking forward to the debut of The Real Husbands of Hollywood tonight (Tuesday) at 10. How awesome is that title? And speaking of awesome, did you hear about the show's cast? Prepare to laugh, people.
In addition to capable comedian Hart, we'll also be treated to the antics of JB Smoove, Duane Martin, Boris Kodjoe (whom I have taken the liberty to christen Black Woman Kryptonite), Nick Cannon and R&B singer Robin Thicke … the token White guy whom I'm very pleased to know signed up for this kind of lunacy. All of these dudes will be portraying heightened versions of themselves and I think it's going to be hilarious! Hell, just watching the previews is an indication of how genius this is. I think it's awesome!
Oh, and by the way, did I say I believe this show is going to be awesome?
Guys, I feel as though America is suffering from an epidemic … and it has nothing to do with that dreaded flu nonsense. Quite frankly, I think that Hollywood is running out of ideas. Shoot, the fact that they're rebooting Beverly Hills Cop as a TV series is proof enough for me. If it isn't a reboot or a revamp of an old television program, then it's another new reality series – and an abysmal one at that. Just why in the world do we subject ourselves to such nonsense? How do we grow and gain enlightenment from seeing people backstab, connive, lie, cheat, and for lack of a better term, act utterly ratched?
Somehow, some way, VH1 has found success by reinforcing negative stereotypes of African-Americans in its plethora of tacky reality series. I won't get into that now. I'm typing this column on an empty stomach and ya' boy just doesn't have the strength today. With that being said, let's get back on topic, shall we?
Hart has certainly earned his place in Hollywood. The man is funny. Period.
With reality television shows so abundantly prevalent, it was only a matter of time before someone got the bright idea to spoof them. I'm just pleased to know that the person is Kevin Hart. One of the stars of the movie adaptation of Steve Harvey's bestselling Act Like a Lady, Think Like a Man, Hart has certainly earned his place in Hollywood. The man is funny. Period. I'm just interested in seeing how his costars fare.
One of the preview clips that I saw showed Duane Martin threatening to beat his real-life wife, Tisha Campbell-Martin of Martin fame. She didn't look the least bit frightened. In fact, her exact words were, "I wish a ni%#a would." I'd insert an LOL here, but that would be bad journalism. I also laughed out loud at a clip of Robin Thicke being bitch-slapped … which is apparently a running gag on the show. According to TV Guide, Mariah Carey will also be making a cameo appearance since, you know, she's married to Nick Cannon.
I'll be the first to admit that I'm not the biggest fan of BET. I just believe the network has a lot of serious growing to do. However, I will give credit where credit is due. It does seem as if they are trying to make some positive strides. Having The Real Husbands of Hollywood in their lineup should help. If it's done properly, it may just end up being exceedingly clever and downright hysterical.
And if not, well, I guess we'll just have to settle for it being ratched.
Do you enjoy reading Clacking in Color? Jaylen sure as hell hopes so. Keep up with his opinions and ponderings  by following him on Twitter @thesuperflynerd!
[easyazon-image align="none" asin="B000CBP02A" locale="us" height="160″ src="http://ecx.images-amazon.com/images/I/519XE1C7R3L._SL160_.jpg" width="111″] [easyazon-image align="none" asin="B001SENS6A" locale="us" height="160″ src="http://ecx.images-amazon.com/images/I/51EKkXikeVL._SL160_.jpg" width="120″] [easyazon-image align="none" asin="B009YLUCZE" locale="us" height="160″ src="http://ecx.images-amazon.com/images/I/51Db1pdc9%2BL._SL160_.jpg" width="130″] [easyazon-image align="none" asin="B000XSWVEC" locale="us" height="160″ src="http://ecx.images-amazon.com/images/I/516aGyVITCL._SL160_.jpg" width="112″]
Photo Credit: Black America Web