Kevin Bacon makes FOX's The Following awesome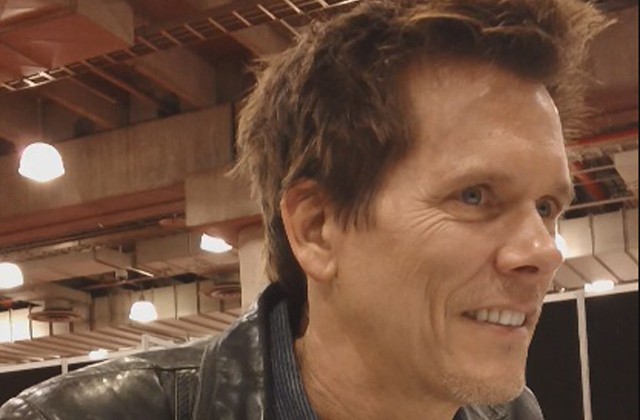 Kevin Bacon's FBI agent Ryan Harding on FOX's 'The Following' isn't the only awesome part of the show; Kevin Bacon is, as well. After interviewing him, I realized just how awesome.
So, I'm currently crushing on Kevin Bacon and his portrayal of the rangy Ryan Hardy in Fox's The Following. If you haven't checked out Ivey's preview post or watched the premiere this week, The Following follows English professor turned serial killer, Joe Carroll (James Purefoy). Kevin Bacon plays Ryan Hardy, the FBI agent who eventually captures him, but deals with Carroll's continuing presence in his life and ongoing menace to the world through his cult-like following.
Some actors, like a vintage wine, just get better.
When I initially watched the preview I absolutely fell in love with Kevin Bacon's portrayal from minute one. The writing, his acting and the directing all collaborated to construct a believable hero figure through his anti-heroics. Even without speaking, watching his character gulp from the water-less water bottle and shower more in shame than water itself, I fell in total love with both the character and the actor. When I interviewed Kevin Bacon at NYCC in the Fall, I saw the modern day man who gave life to Ryan Hardy's frame. He's incredibly genial with intense blue eyes that made me blush when trapped beneath their gaze. I said this before, but most of the actors at NYCC proved incredibly chivalrous. Every time I asked Bacon a question, he moved his water bottle out of the way and turned to face me fully. While I didn't have a crush on Bacon during his Footlose days, I now have a full-fledged crush on him after spending ten minutes beneath his unrelenting gaze and, of course, watching his on-screen portrayal. Some actors, like a vintage wine, just get better. If you're my age, you have to see Kevin Bacon's portrayal. Ryan Hardy isn't the man-child inspiring a town to dance.
Although normally I hate comparing actors with their characters, I couldn't help but see the similarities between the two during the interview. Like Hardy, Bacon has an average guy accent, by way of Philly, with a lean, rangy feel. He views his character and Purefoy's character as polar opposites. He describes Purefoy's Joe as "seductive," "cerebral and methodical" against his character's "instinctual" approach. I wonder if that also includes his approach to acting. Although he views his character as more street smart and less book smart, I viewed the character as more intellectual overall. He revealed they initially scripted Ryan as a profiler, but he feels his character was more of a "grunt" from a cop family. He loves that his character "messes up a lot" and has "anger issues." He also has a healthy sense of humor about his character's screwed up sensibilities. After all, dude sleeps with a serial killer's wife barely minutes after putting the guy in jail. Like most actors, he looks for the humanity in his character no matter how "evil" and looks for flaws in the good characters no matter how heroic.
For the transcript, video interview and photos, keep on reading. If you haven't watched the pilot, Bacon's character returns to assist the FBI in capturing a newly escaped Carroll. Of course, this occurs in the wake of publishing a book on his experiences. Kevin Bacon is as awesome as his character, Ryan Hardy. And, as my friend pointed out, there is now one degree of separation between myself and Bacon. Check out The Following every Monday at 9 with repeats on Friday. With Bacon in the lead, this is one show you'll want to follow.
I think that [my character] would like to be happy living a life of quiet desperation, alone.
Do you feel a covert parallel between your character and the Carroll character? You said otherwise in the panel. However, both appear to have the ability to inspire acolytes including the Jr tech agent who quotes your character's book word for word.
Maybe, but I feel I'm a little bit more reluctant to that. My idea about the book is that I left. The FBI kicked me out. Someone came to me. I've never written anything. And said "write this book, it's no big deal. You'll make a little money." I think I really regret having done it. I think I regret having had to go on and be a talking head. It's something the FBI does not look kindly upon. Even though there are agents on the show that have read it. I know from my research that people from the bureau that go on and become talking heads, they're not really heroes. I think I have a certain amount of shame about that. I think that my relationship with the Weston character continues to be one of somebody looking up to me. But, as you'll see, I'm really not comfortable with that at all. That's the really big difference between me and Joe. I think that I would like to be happy living a life of quiet desperation, alone. He's the opposite. He wants as many people in his life as he can possibly get.
I almost feel your character is moving closer to Joe as in the flashbacks he's barely familiar with the text but in modern day he makes connections more literate agents don't.
That's a good point. I think based on the fact that I'm so hell bent on finding the guy, I will read something I would never read. I do think in my family there have been people that have admired literature … when it comes up I don't know. I think there is a little groundwork that's laid for him. But he reads the Poe because he thinks the Poe is going to him to Joe Carroll and if that's what's gonna get him there he will become an expert.
[easyazon-image align="none" asin="0452278449″ locale="us" height="160″ src="http://ecx.images-amazon.com/images/I/51iOOyGJ7ML._SL160_.jpg" width="110″][easyazon-image align="none" asin="B0045Y1N2Q" locale="us" height="160″ src="http://ecx.images-amazon.com/images/I/512HRBS8tKL._SL160_.jpg" width="123″]
Photo Credit: Fox; An Nicholson