Things I'm thankful for this Thanksgiving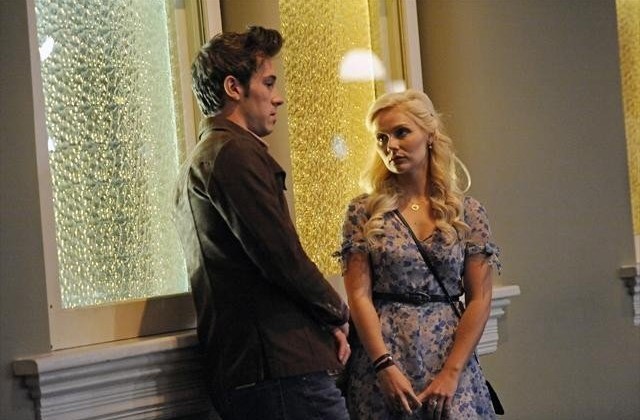 As the United States celebrates Thanksgiving tomorrow, it is a time for us to take a step back and ponder on the things we are thankful for. In honor of that tradition, I thought I'd share with you some of the things in the world of television, film and pop culture in general some of the things I'm most thankful for.
This list is far from complete; if I were to yap on and on about everything I liked, this list could last until the pumpkin pie is served on Thursday. So this is just a survey; some of the many, many things that I count myself fortunate to watch or listen to:
Shawn Ryan – His latest show Last Resort might not have been a good – or successful – as I'd hoped, but Ryan continues to be one of my favorite showrunners in television today. While I wasn't nearly the fan of The Shield that others are, I love The Unit and The Chicago Code immeasurably, and think that his season of work on Lie to Me was incredible. I'm not sure what he's got up his sleeve once Last Resort ends, but I know I'll be watching from day one.
Star Wars and Disney – There is a great deal of trepidation in the fanbase as Disney announced their purchase of Lucasfilm and their intentions to produce Episodes 7, 8 and 9. I understand why, considering just how disappointing and uneven the prequel films were. But I've got faith. While some of the people I'd been hoping to be involved with the project have indicated they won't be a part of it (damn yous Brad Bird!), I've still got faith. Plus, as a big amusement park guy, I know there's no way after watching the insane success that Universal Studios had with the Wizarding World of Harry Potter (and it's planned sister zone in California and as-yet-announced-but-not-secret Orlando expansion), that I'm going to be able to walk through the Millennium Falcon sooner rather than later.
Joss Whedon – I'm just going to leave this name here, and expect you to understand why. If you're having trouble, I suggest looking up the following projects: Avengers, Dr. Horrible's Singalong Blog, Dollhouse, Angel, Buffy the Vampire Slayer and Firefly/Serenity. Plus, he also gave us Amy Acker, so: bonus points.
Suits – It is simply the best show you're (probably) not watching. I'm not going to sit here and tell you how much you'll like it. I'm just going to look down my nose like the Dowager Countess until you give it a chance.
Resurgence of Genre films – Avengers, Hunger Games, Looper … these are my kinda films. I absolutely bask in the fact that we're getting some really great geek stuff in the theatres these days.
I didn't think I'd like GoT … I couldn't have been any more wrong
Game of Thrones – Yeah, I still to this day remember an instant message conversation with Carla before GoT premiered where I said that I wasn't sure if I would get into the show or not. I hadn't read the books, and had seen similar shows like Pillars of the Earth fail. I couldn't have been any more wrong (I highlighted that part out as a pull quote because it has been inferred that I never admit to being wrong … it just doesn't happen often); I am addicted to everything Game of Thrones/A Song of Ice and Fire. Since the show premiered I've read the full set of books twice, I participate in online discussions about theories regarding future books and love the weekly column Bob Degon and I produce when the show is on the air.
The Voice — Or, more specifically that the next cycle starting next year will be missing Christina Aguilera. I won't particularly miss Cee-Lo's inability to make a comment to a female contestant that doesn't start with how beautiful she is, but I won't miss anything about Christina.
Delta Rae – The first night of San Diego Comic Con this year, as I sat down with Keith McDuffee, Michael Noble and Tara Shrodes, somehow the topic of my favorite band came up. Keith and Mike were so kind to point out to me that they where incredibly aware of just how much I liked the band. Apparently, I mention them on Facebook and the Twitter quite often. Like, way often. But I don't care. I'm no music critic, so I can't break down their work like I can a TV show or flick, but I do know I like the band. So, instead of telling you, I'll just leave you with their latest video:
Make fun of me all you want [about Grey's Anatomy], but I'm hooked
Grey's Anatomy – I get a great deal of flack for being a fan of this show, but I don't really care. While I admit that there are shows on the air that I think are better, there's no show I look more forward to each week than Grey's. Make fun of me all you want, but I'm hooked. The far-reaching repercussions of last season's plane crash have created several great character arcs … even if it did mark the departure of two of my favorite characters on the show, Mark and Lexi.
Nashville's Clare Bowen's voice – Nashville is a pretty good show. I — like all Friday Night Lights fans – am a big, big fan of Connie Britton. I also remember "Save the Cheerleader, Save the World." But the biggest surprise of the show has been Clare Bowen's performance, and her amazing voice. Her vocals on each of the tracks – but especially "Fade into You" – are just haunting. Bowen, who nails her southern accent despite originally hailing from Australia – is easily my favorite thing about the new television season. It helps that her part of the Nashville story is much more interesting than either Britton or Hayden Panettiere's thus far, but it all comes down to her voice. I just can't get enough. (Oh, and the second best vocal performance on the show thus far? Lennon and Maisy Shelly – Britton's daughters on the show – singing "Telescope")
My CliqueClack family – I wanted to end with Bowen's voice (because, damn), but the guilt finishing with anything but Team CliqueClack would eat at me all through Turkey-Day (Except when the Washington Redskins take on the dastardly Dallas Cowboys … nothing gets through after kickoff). I have the great fortune to work with an incredibly talented group of writers … and Michael. We're a fairly diverse group as far as individual backgrounds, shows & movies we're fans of … heck, we're even spread out across this great nation of ours. In the end though, I'm pretty lucky to have these guys as friends.
Photo Credit: Donn Jones/ABC