Best of Warner Bros. 20 Film Collection: Musicals – DVD Review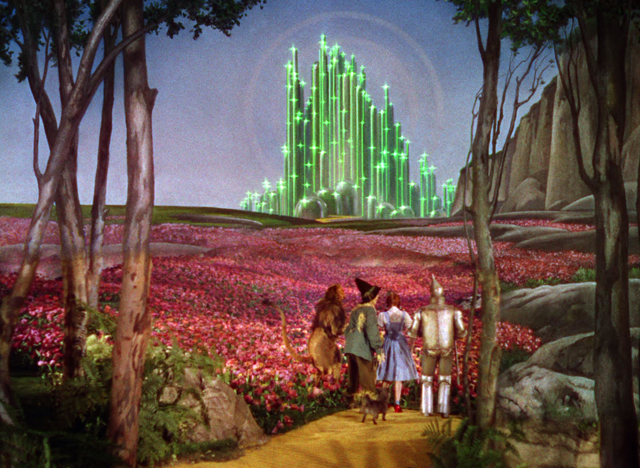 Warner Brothers celebrates its 90th anniversary with a collection of 20 of its best musicals in one DVD set.
Warner Brothers has been celebrating its 90th year in the business of making motion pictures, and have been releasing some of their key titles in new Blu-ray editions (Driving Miss Daisy, Grand Hotel, Mrs. Miniver, Singin' in the Rain), a Blu-ray collection containing 50 films, and individual DVD sets with 20 Best Picture Oscar winners, a Romance collection, and a Musicals collection. MGM really cornered the market on movie musicals in the 1950s, but Warner Brothers really got the whole thing started with the classic The Jazz Singer, billed as the first all-talking, all-singing motion picture (a bit of a misnomer, but it was the first movie projected with synchronized sound). So in honor of 90 years of Warner Brothers movie musicals, they have recently released a new 20-disk DVD collection featuring their best (and some of MGM's best) movie musicals. The set includes movies with stars like Judy Garland, Liza Minnelli, Elvis Presley, Gene Kelly, Al Jolson, James Cagney, Robert Preston, Shirley Jones, Julie Andrews and … Divine!
Of all the movies in the set, the inclusion of John Waters' classic 1988 comedy Hairspray is a rather curious one. More of a dance movie than a musical — no one actually breaks out in song — it would seem the 2007 version with John Travolta would have been the better choice. But, one the other hand, the DVD includes an audio commentary with Waters and Ricki Lake, and Waters always gives good commentary on his films. The 20 musicals in the collection are:
The Jazz Singer — with audio commentary, a short silent film starring Jolson, the Merrie Melody I Want to Singa, a short film celebrating Warner Brothers' silver jubilee, and even more. The print looks remarkable for its age.
The Broadway Melody – extras include The Dogway Melody, one of those bizarre shorts with dogs playing the roles of human actors
42nd Street — includes three featurettes, a trailer and more
The Great Ziegfeld — includes a feature on Ziegfeld films and a newsreel covering the opening of the movie in New York
The Wizard of Oz — taken from the 70th anniversary DVD release, this single disk includes a wealth of extras and an audio commentary with many key cast members and others associated with the film
Yankee Doodle Dandy — features audio commentary from Rudy Behlmer, and the Warner Night at the Movies option which includes a trailer, a newsreel, a Bugs Bunny cartoon, and the feature film
An American in Paris — includes audio commentary, a newsreel from the Paris Exposition and a Tex Avery cartoon
Show Boat — theatrical trailer
Singin' in the Rain — includes commentary, a feature that allows you to access information while watching the movie, and more special features
Seven Brides for Seven Brothers – includes commentary by Stanley Donen
A Star is Born — movie only on two disks
The Music Man — includes a making of featurette hosted by Shirley Jones
Viva Las Vegas — includes audio commentary and a featurette on Elvis in Las Vegas
Camelot — includes "The Story of Camelot" and "The World Premiere of Camelot"
Willie Wonka and the Chocolate Factory — a single disk from the 40th anniversary edition includes commentary, the documentary "Pure Imagination," a sing-along and more
Cabaret — includes many behind-the-scenes features, a trailer, and more
That's Entertainment — with an introduction by Robert Osborne
Victor Victoria — includes commentary with Julie Andrews and Blake Edwards
Little Shop of Horrors — includes audio commentary from Frank Oz, outtakes and deleted scenes, a behind-the-scenes featurette, and more. Unfortunately, this version does not include the newly restored original ending that can be found on the new Blu-ray edition
Hairspray — includes commentary by John Waters and Ricki Lake
While a great collection of musicals, I can think of two off the top of my head that are missing for one reason or another: West Side Story, My Fair Lady* and the 1976 Barbra Streisand version of A Star is Born**. And with Warner Brothers owning the MGM classics catalog, there are certainly more than enough musicals in the vault for another collection or two. Keep in mind that many of these disks come from multi-disk sets, so a die-hard fan will want to hold on to those releases for all the extras. A casual fan who is just interested in the movies as the main attraction certainly cannot go wrong with this set. Warner Brothers is at the top of the film restoration and preservation game, so all of the movies in this set look and sound fantastic, and for the price, you just can't beat owning this collection of movie musical history. You can order this, and the other anniversary sets, directly from the Warner Brothers shop online or through our Amazon links below.
*My Fair Lady is now distributed by Paramount Home Video
**A Star is Born is included in the Romance collection.
[easyazon-image align="none" asin="B009Z59782″ locale="us" height="160″ src="http://ecx.images-amazon.com/images/I/51XnVAQdUXL._SL160_.jpg" width="139″] [easyazon-image align="none" asin="B009L0I8JK" locale="us" height="160″ src="http://ecx.images-amazon.com/images/I/51bdNuImE2L._SL160_.jpg" width="115″] [easyazon-image align="none" asin="B00AIQKG2S" locale="us" height="160″ src="http://ecx.images-amazon.com/images/I/51S7wdCKa0L._SL160_.jpg" width="139″]
[easyazon-image align="none" asin="B009L0LEDW" locale="us" height="103″ src="http://ecx.images-amazon.com/images/I/51qrQaTrIWL._SL160_.jpg" width="160″]
Photo Credit: Warner Brothers/MGM