Why I respect Wendy Williams so much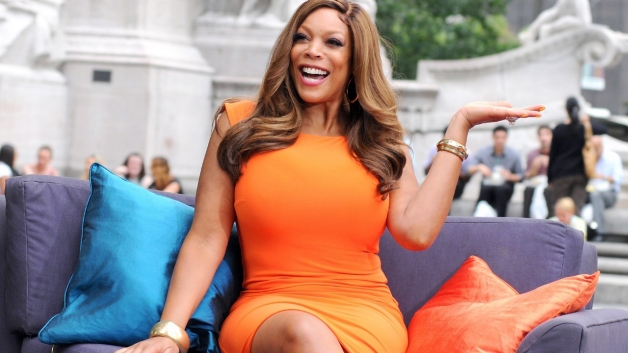 Well, how you doin'?! It seems funny talk show host Wendy Williams is taking BET and Centric by storm! In this week's Clacking in Color, the awesome column spotlighting ethnic diversity in Hollywood, writer Jaylen Christie explains why he appreciates Williams so much.
When it comes to popular talk shows, most people probably think about Oprah. I suppose that shouldn't be too surprising considering that she was practically the goddess of broadcast journalism. However, with Oprah's highly successful show now defunct and her network still vying to be a top contender, it seems a new inquisitive vixen is on the rise, and you won't believe who it is — Wendy Williams.
"How you doin'?"
Does anyone remember when Williams flat-out asked Houston if she was doing crack on the air? Does anyone remember Houston cursing her out?
Fans of her talk show should instantly recognize her hit catchphrase. Ladies and gentlemen, I'm not even going to front — I think Wendy Williams is awesome! Seriously, that woman's got spunk and a whole lot of moxy. Perchance it developed during her time as a New York City DJ. It's interesting going back in time to see just how she became the powerhouse diva that she is. I distinctly remember when she was known for being an annoying gossip queen digging up dirt on celebrities in the 90′s. A horrific interview with the late Whitney Houston suddenly comes to mind. Does anyone remember when Williams flat-out asked Houston if she was doing crack on the air? Does anyone remember Houston cursing her out?
I damn sure do.
Now, there's something you wouldn't have gotten on Oprah! Nevertheless, it's nice to know that Williams has risen above all of that. After all, the private lives of people should be just that — private. Somehow, someway, Williams was able to take her budding celebrity status and land in a couple of films and television shows before settling on becoming a talk show host. As a college student, I remember giving her show a try when it first premiered and I recall it being a little shaky at first … but now it's gained a loyal following. In addition to it running on BET, where it's been for over a year now, it is now also running on Centric. Way to go, Wendy!
It's nice to know that the woman — yes, she is a woman despite the rumors of her being a man — has some kind of drive. I was raised to be a hard worker. People that are lazy do absolutely nothing for me … so Abigail, if you're reading this, please stop asking me to be your boyfriend. I digress.
Quite frankly, I admire Williams' work ethic. Heck, she's working just as hard as multitasking celebrity Steve Harvey, if not more so. It seems her hard work has paid off tremendously. Williams has garnered a bevy of racially diverse celebrity guests including Kevin Hart of BET's new The Real Husbands of Hollywood, Wendy Raquel Robinson, Kenan Thompson, Kim Coles, Raven-Symone and my celebrity crush Vanessa Williams … who still refuses to return my phone calls.
I think it's wonderful that these individuals are able to be interviewed on a talk show that garners such a strong following of minority viewers. I personally believe there should be more ethnically diverse talk show hosts … but I won't make a big deal about that. After all, there is a lot
more racial diversity on television
this season. I'm just happy to know Williams is included in that. I like watching her program. I just don't like watching her dance. Her turn on
Dancing With the Stars
was, um, bad. However, let's focus on the positive.
When I was younger, I used to have dreams of becoming an award-winning journalist and actor. I recall wanting to be interviewed on The Rosie O'Donnell Show. Those dreams are still alive. However since Rosie seems to be done with TV, I now have hopes of appearing on Wendy. Now, how awesome would that be?
"How you doin'?"
Do you enjoy reading Clacking in Color? Jaylen sure as hell hopes so. Keep up with all things ethnically diverse by following him on Twitter @thesuperflynerd! You'll be glad you did!
Photo Credit: BET Networks