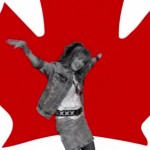 Blowing the Hatch: When a good show turns great. How I Met Your Mother started well in its first season. We got to know the gang: Ted is the romantic, Barney is The Man, Lily is the sweetheart, Robin is the Canadian (Thanks Andrea!), and Marshall is the dreamer. There were embarrassing admissions of love, sword fights, pineapples, Cupcakes, break ups, and make ups. We were also introduced to HIMYM's unique non-linear storytelling style that I love. It was nine episodes into the second season, however, when Robin had a secret, and Barney made a bet.
There was so much awesomeness in this episode, that I believe most fans forget that we saw Lily become Slap Bet Commissioner the same night we met Robin Sparkles. The group discovered that Robin had some deep dark mall-related secret when she was too scared to join them on a Barney-funded shopping spree. Ted pries, as Ted does. Marshall thinks it's marriage, as Marshall does. Barney think its porn, because, you know, he's Barney.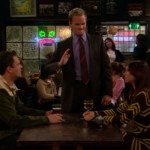 The bet, is the most legendary of bets: Slap Bet. Lily gets to mediate, but the winner gets to slap the ever-loving crap out of the loser. Because both of our contestants jump the gun, much slappage occurs. When it's all said and done, Barney loses, and has to make a difficult choice: Ten slaps doled out immediately, or five, at a time and place of Marshall's choosing. The latter prevails, and leads to great fun for Marshall, and for us.
The secret came out when one of Barney's "contacts" tracks down some video of Robin's past. When everyone gathered around the computer to watch, we get our first glimpse of Robin's truly sordid past. The video of "Let's Go to the Mall" is just a funny sandwich with a side of hilarious fries. From the robot, to the fact that the '80s didn't make to Canada until, like '93, Robin Sparkles is here to stay. Well, at least until the (obviously) career-ending follow up single.
Both the Slap Bet and Robin Sparkles have come back again and again. Not just in the big storyline way (like the "Sandcastles in the Sand" episode) but the little nods. Marshall jumping on-stage to slap Barney during his one man show, or singing "Let's Go to the Mall" at the Canadian karaoke bar. When one episode can provide so much material down the line, you know they've hit one out of the park.
Photo Credit: CBS.com