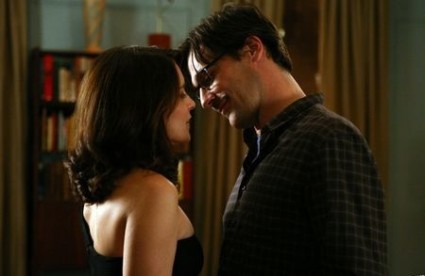 In case you live in a cave, nominations were announced today for the Emmys. This year things look a little different, as the Academy decided to bump up the number of nominees in each category. Now there are seven nominees in the best show category (for both comedy and drama, of course), and six nominees in the major acting categories. This seems to be a really popular trend, as the Oscars are doubling their best picture short list.
In any case, we here at CliqueClack had some strong opinions, both good and bad, about this years list of nominees.
Here are our thoughts:
If you missed Annie's post, she was excited that Flight of the Conchords, and specifically Jemaine Clement, was feeling some love from the Emmys. We'll see just how much love there is once the awards are handed out.
One thing that stuck out for me (aside from the much-warranted dominance for Mad Men and 30 Rock), was the nomination for Aaron Paul of Breaking Bad. He was stellar in this season's Breaking Bad, and I often found myself thinking: "Damn. He really deserves an Emmy." On such a high quality show, it's difficult to stand out, and Paul certainly did that this year. Kudos.
Rich had some interesting thoughts on Family Guy's nod for best series:
"Family Guy? Really? Family Guy? While a good show, it isn't nearly as interesting as it was a few seasons ago. With so many vignettes interspersed amongst the actual plot of an episode, it's hard to find the actual plot. The Simpsons, which hasn't had a best comedy nod in its 20 years on the air, would have been somewhat more deserving."
Ivey shares the sentiment of so many other critics when it comes to the Emmys and Friday Night Lights:
"Will Friday Night Lights always live in the shadow of the lauded murder storyline? I can't come up with another reason for the continued snubs by the Academy of Television Arts and Sciences. Kyle Chandler and Connie Britton continue to do some of the best character work ever done on television, yet receive very little recognition for that work. As much as I enjoy Simon Baker in The Mentalist, there's no way his work compares to what Chandler has done this season. Britton is in the same category. It's criminal that these guys keep getting ignored this way."
Julia rants about … well, Julia rants. You should be used to that by now:
"It's funny how very little I care about the drama category – in the comedy category, I get torn to-and-fro. Who do I want to win between How I Met Your Mother, 30 Rock, and The Office??? Which to choose? I do think Psych deserves some nods, and Pushing Daisies certainly deserves far more nominations. (If Cheno doesn't win for supporting actress, I'll be ticked.) But with the comedy categories, I always feel like there are too many deserving people, and not enough nomination spots. The drama category needs some serious re-vamping. Like, maybe the deserving comedy people could go in the drama categories? Because I don't know if we were watching the same House this year, but it blew. I've never understood why Bones gets so routinely snubbed, either. It's a phenomenal show, that I feel gets way too ignored just because it's on the same network as House."
Scott has some thoughts about Entourage:
"Entourage's inclusion in the Outstanding Comedy Series category is ridiculously stupid. The show hasn't been funny since early in season two, and it registers a ZERO on the relevance scale. It's Always Sunny in Philadelphia would have been a better choice. It is my sincere hope that the Entourage gang perishes in a horrific thirty-car pileup in the series' finale. Too harsh? Too bad."
And then there is Aryeh. I feel that I should remind our readers that Aryeh's opinions are solely his, and do not necessarily reflect those of the rest of us….
"While Alec Baldwin was fantastic, as usual, 30 Rock garnering 22 nominations is a bigger laugh then the show. Tina Fey (who also doesn't deserve a nod for her "guest spot" on Saturday Night Live) should stick to writing, Steve Martin's turn on the show was widely booed, Jon Hamm looked as awkward as a cow dancing salsa, Jennifer Aniston was less embarrassing as a guest on Dirt, Tracy Morgan may be amusing, but is no "outstanding" actor, Jane Krakowski's casting is reason enough for their casting director to be fired, not praised, and the writing this year has been sub-par, often."
Aryeh continues:
"No Jeremy Piven for Entourage? Really? Piven is one of the finest actors on TV today, who consistently reminds us how lucky the show is to have landed such a huge star. And, how does Kevin Dillon stand out from Kevin Connolly, Adrian Grenier, and Jerry Ferrara? How come no love, or respect, for those three? Johnny Drama's memorable quote from the season was, 'tweet!'"
Aryeh also loves Boston Legal … a lot….
"No Candace Bergen or James Spader for Boston Legal this year? How about the standard respect for a fallen show that's been under-recognized for the entirety of its run? Talk about kicking a man when he's down; this is almost as disrespectful as the show's cancellation this past winter."
What were your thoughts on this year's Emmy nominations?
Photo Credit: NBC