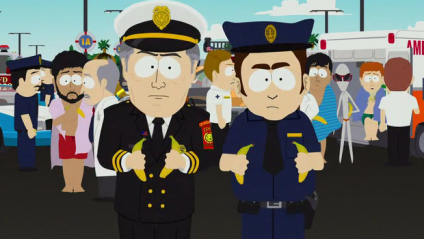 Earlier this post didn't have the final hidden alien hint pictured above. Now it does. What are you waiting for? Go enter one final time!
Leave it to Parker, Stone and the rest of the South Park team to find a way to blatantly compare the growing number of minorities in the United States with the amount of pee in a pool. Clever and completely offensive, but did you really expect anything less from these guys?
As soon as the boys started confessing that all but Kyle peed in the pool, I knew where the episode was going: the water was just about all pee. But hey, technically pee is made up of mostly water … not that that makes it any less gross. Who knew that the acceptable pee level in pool water was 83% in water parks?
I laughed out loud a few times and thought this was a pretty decent episode for a finale. And now, I leave you with some lyrics:
Too Many Minorities At My Water Park
What has happened to this place
I don't recognize it anymore
It used to be so fun and special
What is life worth living for
The dream is dead
Our land is gone
There's a hole in my heart
And I can't go on
There are too many minorities (minorities)
At my water park (my water park)
This was our land, our dream (our dream)
and they've taken it all away
They just keep coming and coming (minorities)
I tried to go and tell the police
But even the authorities
Are minorities (are minorities)
At my water park
There's no place for me to sit anymore
And the lines just keep getting crazier
There are Mexicans all around me
The lazy river has never been lazier
It's a 40 minute wait to go down one slide
And the instructions are in Spanish on the Zip Line ride (just do it in English!)
There are too many minorities (too many)
At my water park (somebody do something)
Where did they all come from
Why can't they leave this land alone
And it's such a tragedy (feel a bit like dying)
We looked the other way too long
We've got to change our priorities
And get all these minorities
Out of my water park
(Minorities) Mexicans and Asians
Black people
I think I even saw Native Americans (gross)
God I'm asking please
Get all of these minorities
Out of my water park (my water park)
Photo Credit: Comedy Central