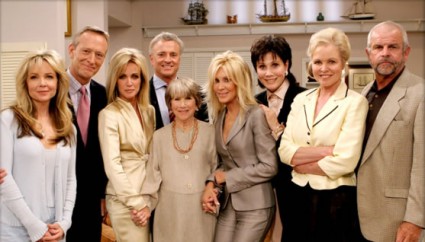 Before I even get into it, I can tell you that I was just as surprised as you're going to be that I had such a hard time with a major network's Thursday night lineup. But CBS's Thursday night went and did the unthinkable — it almost made me pass on it like I did FOX's Friday. I know some of you are crying foul, but the beauty of the dream lineup is that each of ours is unique, like snowflakes are purported to be.
So why am I bothering when I have nothing? Well, first of all, just because a night sucks doesn't mean it's completely barren of choices. And second, because I'm prepared to do something I've never done before … I'm gifting part of my night to someone else.
8:00-9:00 Ryan made the observation recently that I've been sheltered in my television watching experience. But I think what's at issue here is that a lot of these choices predate me — this is, after all, a discussion about all shows that have aired in my lifetime. That includes when I was one, too. But some of these shows also predate me because the production value, conceit, or flavor are just not of my generation, so even if they were on today I wouldn't be interested. Take, for instance, this hour's offerings. Magnum, P.I. is one of those shows that I can acknowledge as a classic, but one that I would never watch. Besides, Tom Selleck will always only be Richard Burke or Ivan Tiggs to me. Why watch Simon and Simon's detectives when I have Psych? Tour of Duty could have used more of M*A*S*H's humor, 48 Hours was depressing, and Top Cops tried to ride the Cops train, of all things. In the Heat of the Night was great for Carroll O'Connor, but what did it do for me? Due South was … well, we all know what happens when you mine for entertainment north of the border. Murder, She Wrote was a show for my parent's generation, Diagnosis: Murder was another vehicle for another relic (this time Dick Van Dyke), Promised Land didn't deliver, and today's Survivor grosses me out. But I feel like giving, so I'm going to do something for one of our own old-timers — Debbie, it's Magnum, P.I. just for you!
9:00-10:00 Another throwback hour. In addition to the already discussed Simon and Simon and Diagnosis: Murder, there was my father's favorite Knots Landing (today's CW shows have nothing on its soap opera vibe), Wiseguy (not uninteresting, but hard to watch), Paradise (one of many failed Western-themed shows), and Top of the Hill (Capitol, that is). The Flash — and superheroes in general — was never my thing, New York News was better exemplified as The Wire season five, and Moloney unfortunately had nothing to do with Janel. I didn't watch the NBC show, but even I know that Chicago Hope was a poor-man's ER, City of Angels worked better as a movie, and CSI is no better served in its original form than it is in its many spin-offs. And then there were the shows that didn't do themselves any favors with their titles: The Trials of Rosie O'Neill, Street Stories with Ed Bradley, Eye to Eye with Connie Chung … not exactly made-for-water cooler conversation names. Which means … Debbie, you've got your "Best 2 hour block of television possibly ever" — it's Simon and Simon at 9PM!
10:00-11:00 Alright … so now that I've given a little, is it time to get? That all depends on how this hour shakes out. Besides Knots Landing's 10 year run here, 10PM also saw Chicago Hope, 48 Hours, and Diagnosis: Murder. Jessica Novak made nary a blip on the radar, Kay O'Brien didn't do much better, and Angel Falls … right. Anyone know what those three were about? The Agency saw Rocky Carroll trying to ply his craft with the CIA, Without a Trace can disappear exactly that way as far as I'm concerned, and Shark's James Woods only ever entertained me during his turn on Entourage. Harper's Island was too scary for me, and I've already said my piece about The Mentalist in posts past. I've also already said my piece about the last show left here, and it's consistently been glowing … 10 o'clock is all about Eleventh Hour (cute, right?). I don't know what it was, but Rufus Sewell and Marley Shelton were fantastic together, and the addition of Omar Benson Miller was some perfect casting. Most shows that I liked that get cancelled fade relatively quickly from my memory, but Eleventh Hour, I've missed you — welcome back.
So there you have it … something for everyone. Debbie, enjoy the gift for now, because I can't back your shows when they go up against the other networks in the next round. But for the time being…. So, what does your perfect Thursday night on CBS look like?
Photo Credit: CBS