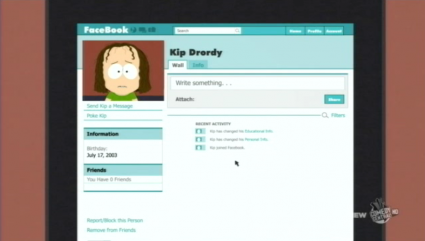 "Aw, you guys doing that stupid Facebook stuff again? Why are you guys in here wasting your time? We're supposed to be out playing video games!" – Stan
Alright, so how long before at least a few people you know put up poor, pathetic Kip Drordy's profile pic above as their Facebook profile picture? Someone already grabbed the static URL for it, so it's only a matter of time.
This episode hit home here because my wife Deb utterly refuses to join Facebook. Now I'm afraid to go and set her up with one myself — she'd look horrible in a TRON helmet and sucks at Yahtzee.
I honestly had no idea that Facebook could take over people's lives so much, but I'm not surprised. I'm sure South Park hit the nail on the head for some people. I also hear a lot about Farmville from Facebook and how addictive it is. Some people I've friended on Facebook try to lure me in with their offers of beets and carrots, but I'll have none of it! Ignore! Now, hacking and slashing trolls and night elves? Now we're talkin'.
Something that surprised me but definitely gave me a laugh-out-loud moment was bringing in Chat Roulette to the show. I thought that was a relatively new novelty, so seeing it tonight was a surprise. Thankfully in the five minutes I tried Chat Roulette, I only managed to see a pair of tits and no dicks.
With the Facebook references, Chat Roulette and the hilarious TRON tribute, this was an episode for the books. I'm sure "Kip Drordy" will be some sort of catch phrase before long, and "Ignore!" will be a commonplace word people use face-to-face when they want nothing to do with a person. man, I sure set myself up for a lot of comments with that word in it, didn't I?
Oh, one last thing: I really want that Street Warrior poster in Stan's bedroom.
Photo Credit: Comedy Central