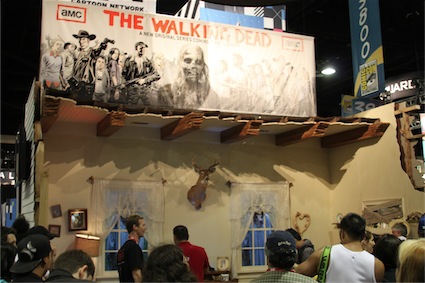 Many times I'm a "fair weather reader," for lack of a better term. When I hear of a movie or TV show being greenlighted that's based on a book, it's then that I'll go out and pick up said book. I guess I had to discover it somehow, right? This time, though, I started reading The Walking Dead comic books before it was announced that AMC would be turning it into a TV show. I was only two volumes into the series when I heard of the AMC deal, so I had some catching up to do. And now that I'm caught up through the 8th volume, I'm not so sure this will be a good TV show.
For any blood-and-gore loving person, The Walking Dead should be a dream come true, so long as AMC keeps true to the Image Comics books. Just the zombies alone should make one's skin crawl, as they are usually missing body parts and are spilling their own guts, as they somehow plod their way around the landscape. The violence is plentiful and graphic, with body parts mutilated, lost or eaten, both from the living and the "undead."
According to early reports, the TV show is going to remain pretty faithful. And there's where I'm concerned. The thing is, aside from maybe Dale, I don't really like anyone in the series. Everyone is despicable in their own way, most making one idiotic decision after another. Most concerning, though, is that the main character, Rick, is the worst of the bunch. Though he's the self-appointed leader of the group, he's a complete asshole to everyone, including, at times, his wife and son. I found it impossible to root for this guy. I kept thinking that if I was in their situation, having to listen to this guy dole out orders, I'd hightail it out of there. And some do!
The fact that Rick is so unlikeable isn't the biggest concern, though. While, yeah, this is a horror show and not exactly meant to be all warm and fuzzy, that's really all there is to it. It's horrific. People die. Undead die more. Did I mention limbs are lost? And just when you think things have calmed down and we might have something good happen to the group, it all goes to hell. Even for a horror fan like myself, it's exhausting.
As I said, I'm eight volumes into the series so far (that's up to issue 54 of 72 or so), and I'm almost to the point I might not continue reading. However, it's one of those "but I'm invested!" deals now, and I might just have to keep on going. As for the TV series, I'll definitely be checking it out and writing about it here. If I had my way, the first season would encompass the first seven volumes of the books, since the storyline would make sense for a great cliffhanger for what happens there at the end of that volume, then a great season two opener for what happens next. It's more likely that season one will take place throughout the first compendium book, which is through volume eight.
Have you been reading the books? What do you think of the storyline and how it might translate to TV? How do you find it would be enjoyable, never mind how it will lure in newcomers to The Walking Dead series?
(P.S. The image above is from one of several detailed sets AMC set up at the San Diego Comic-Con this year. They went all out! Unfortunately, I wasn't able to make the panel or press room for this series, or else maybe I'd have more to tell you here.)
Photo Credit: Keith McDuffee, CliqueClack