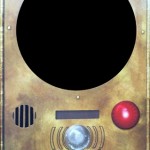 Admittedly, I'm not a huge Warehouse 13 fan. I do like the show, but I'm not an all-out geek about it. In fact *whisper*I've missed a few episodes here and there that I probably won't ever bother with.*whisper* However, that hasn't stopped me from doing the ultra-geeky: I've made my cell ringtone that of the Warehouse 13 Farnsworth device.
A little searching around and I found the ringtone, which is REALLY loud if you have your ring volume cranked to full. You can grab the ringtone in M4R format here.
Now, here's where I could get even geekier … and I may have to do this for next year's Comic-Con. I still have the press kit that came with the series premiere of Warehouse 13, which was encased in a plastic and cardboard replica of the Farnsworth. I don't see why I couldn't hack the thing up and slip my iPhone in it … with Facetime! Do you dare me?
Incidentally, I'm a freak who keeps all of the notable press kits sent to me. Mostly it's Syfy and FOX who have the best worth keeping, though USA has been upping their game lately. I'll need a warehouse of my own some day to house all this crap.
Want a home screen image for your smartphone that looks like the Farnsworth? Click the thumbnail to the right and grab it from there.
Photo Credit: Syfy