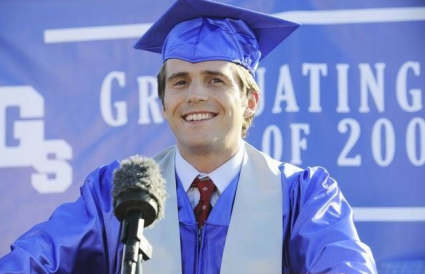 ABC's My Generation has presented a quandary for me. During my summer previews, it was high on my list, if for no other reason than the tongue-in-cheek post we did on its announcement. Mainly though, it is because the show covers my generation. Plus or minus a couple of years (my ten year reunion was in 2008), but myself and my peers are going though many of the same challenges, obstacles, and highlights that the characters on the show were facing. I saw the pilot early this summer, but needed some time to think on it. Now that I've seen the aired version, I'm not entirely sure what to think.
I liked the premiere. I connected with the characters, especially watching how the events of the last ten years, both global and personal, have altered the course of their lives. I'm not sure, if I could pull back the curtain to my graduation day, that I could even begin tell you where I wanted to be today. I do know, however, that wherever that mythical, hypothetical place is, I'm not there. Neither are any of My Generation's characters. It isn't all bad news, but neither is it all good. As the narrative brings these characters back together, it is obvious, though, that the focus will be on regrets, and the road not taken. And that path, unfortunately, will be the downfall of the show.
While I'm sure we will eventually see some positivity, the first hour focused on the negative. A teacher whose biggest dream was to have a family is infertile; a marriage about to be thrown off course with the return of two ex's. These stories, however, aren't the only to be told, and hopefully won't be the only told. I think the eventual lesson of My Generation is going to be that life doesn't always turn out how we expect, and many things will change along the way, but those changes are just as often for the better as they are for the worse.
Unfortunately, though, I doubt we'll ever find out. Thursday's ratings were rough. Very rough. 5.22m viewers, and a 1.6 in the demo. Not a good thing for a show starting out. Unless things change quickly, I doubt we'll ever see how, or if, these stories are sorted out.
I did, though, check out My Generation's iPad App during the premiere. It was a pretty neat experience, one that I hope ABC and other networks take better advantage of moving forward. It uses audio cues (that the human ear can't pick up on) to sync the information content and polls available in the app with the episode as you watch it. It sort of created some of the social feel of our LiveClacks, but unfortunately without the uncensored Clique with our big voices. The experience wasn't completely without some syncing challenges, but it was successful enough (for this user), that I expect we'll see more of these in the future.
Photo Credit: ABC