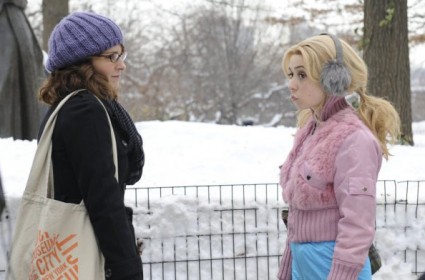 I generally describe myself, to people who don't know me, as something a lot like Liz Lemon. Maybe the product of a one-night stand between, like, Liz Lemon and Abed from Community. And, as I have mentioned before, like, a couple billion times, Liz Lemon is my feminist superhero. But after the latest episode of 30 Rock there's been a lot of discussion and linking to articles old and new — is Liz Lemon actually a feminist? (And here's another.) Does Liz Lemon/Tina Fey hate women (or at least, certain women)?
My answer to all of the following is this: Yes, Liz Lemon is still my feminist superhero. For exactly the reasons I've described before. And this episode did nothing to change that.
Let's examine Liz's storyline in the last episode — She's enraged when JoanofSnark.com (described as "this really cool feminist website where women talk about how far we've come and which celebrities have the worst beach bodies") says her show TGS hates women, so she hires an up-and-coming comic Abby Flynn, becomes frustrated with her overly-sexualized image, exposes her for being, at one point, normal, and then learns that Abby put on the entire facade to hide from an abusive ex-husband, and, in her effort to expose Abby, ruins her life and makes it easier for her husband to find her. And, as Abby flees, she declares, "Liz Lemon is a Judas to all women!"
But is she? Really?
I'm a staunch feminist. This isn't news to anyone, especially if you've read any of my articles. I read feminist blogs, my mom got me feminist trading cards for my birthday once (true story!), and I engage in discussion about feminism with my friends all the time. Last night I was having exactly such a discussion with my friend Louise (another feminist) about feeling uncomfortable with women who dress provocatively, or overtly sexualize themselves, and if that made us bad feminists or not.
"It's not that I'm angry with them, or think they shouldn't be allowed to do it," I explained to Louise. "But I can't help but wonder why. I mean, we'd have those anti-harassment talks in school and these girls who dressed in nearly nothing would complain about how they didn't want to be objectified and should be free to wear what they wanted to wear, and it was like, well, okay, but why are you wearing that it, then? Because I don't think it's because it's comfortable or keeps you warm."
Does that make me a bad feminist?
Actually, sometimes I'm not sure if I should call myself a feminist, or if "feminist" is a term that means anything. There's a famous quote by Cheris Kramarae, a professor a the University of Oregon: "Feminism," she says, "is the radical notion that women are people." And that, to me, summarizes how I view feminism. Women are people — we're not less than men, we're not more than men, we're not just horribly flawed or just perfect. Sometimes we're good and sometimes we're bad. I, as a woman, want to be treated the way I am treated based on who I am, not based on the number of X chromosomes I have.
A lot of feminism and feminist discussion,  especially about this episode of 30 Rock, seemed to be based around the idea of other people judging exactly how "good" a feminist you are. Many feminists believe that no women can ever be criticized for their choices. We are all sisters fighting against the patriarchy, after all, and need to stick together. There's a constant one-upsmanship when it comes to feminism that I see play out all the time, specifically whenever I visit the comments at Jezebel. "This isn't a feminist blog!" One person will say, "You're blogging about fashion and celebrity gossip!" and then someone else will say, "It's anti-feminist of you to assume that all feminists aren't interested in this!" and so on and so forth. God forbid you dislike another woman or judge her choices. No woman should be judged for her choices! Clearly if you do that or are offended by another woman's choices, you are playing right into the hands of the patriarchy, who strive to pit us against each other! Kumbaya! Et cetera!
I don't consider anyone who does that to be a feminist. In fact, I don't consider them to be any better than people who are sexist and inherent injustice they're railing against. As far as I'm concerned, women should be allowed to do whatever they want, make good choices or bad choices, and they should be judged based on what they do, the same as they would be if they were men. If I don't like some men, I'm allowed to not like some women. If I think men are being offensive, I should be allowed to think women are offensive. As Liz Lemon once so wisely asked in regards to racism (though it is equally applicable in this context): "I truly don't like you as a person. Can't one human being not like another human being? Can't we all just not get along?"
As a woman, I want the right to be a Liz Lemon. I want the right to have my values and not be told that they're too much this way or not enough that way. I want the right to judge people and I want the right to be wrong. I want the right to be imperfect, and I want to be respected for who I am, and not looked down upon because I don't live up to one movement's ideals. I want to be considered as a person. And that's why Liz Lemon is my feminist hero. Heck, that's why she's my hero, period — she's multi-dimensional and more than any trope any movement tries to impose on her.  And I think Tina Fey writes her to constantly be turning labels the way she does on purpose. Because I think, maybe, Tina Fey agrees with me that a good feminist character is so much more than any one label — they're a human being. Maybe it's a radical notion that Tina (if I may be so bold as to call her "Tina" and assume that's her intention) and I have, and maybe we're not in line with traditional feminism, but I don't think we're wrong.
And even if we are, we are, after all, just people.
Photo Credit: NBC