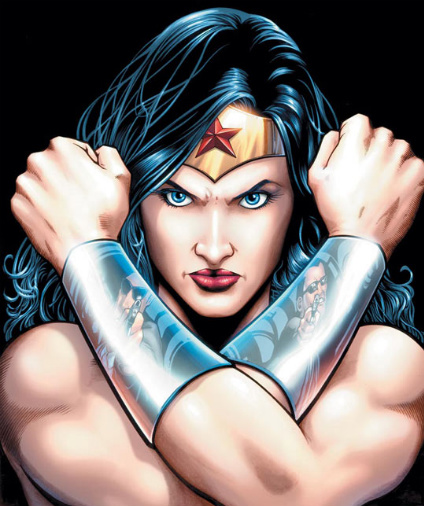 Ever since the announcement of the new Wonder Woman series, there's been ongoing back and forth between the CliqueClack writers.
I stirred the pot a few weeks ago with a post; and over the last week, the talk has escalated. Lots of talk. Debate. A raised eyebrow or five. Discussion of practicality … realism … improvement … straps.
We thought the readers might like a little "behind the scenes" peek at some of what we've been on about, so please enjoy. And by all means chime in. We'd love to hear your thoughts.
Katie Schenkel: I realized … why the changes they made to her costume don't work.
I actually admire them for giving her flat boots and actual pant (skin tight pants, but still pants). The thing is, if they're going for a more a more practical, legitimate crime-fighting outfit, they needed to give her at least straps for her top, if not thick straps or sleeves. Anyone who's ever worn a strapless dress knows that it's hard enough trying to dance with so little support, but fullout running and combat is near impossible.
Oh and yes, gentlemen, I know you like the bustiness of her costume. I'd just like to see her look different for once.
Carla Day: There is actually another costume coming too — shorts.
Ivey West: Well keep in mind that the producers have said it wasn't a redesign, and we have just seen two of the three suits that are planned for the pilot.
Katie: I think it goes back to what has always bothered me about the traditional design of her costume. I actually think that level of sexiness has its place in certain female superheroes/villains … but Wonder Woman is so collected and stoic … it just doesn't fit with the kind of hero she is.
Of course, if you know anything about her creator, a lot of this makes sense.
Ruby T.: I always preferred She-Ra. Not that her white miniskirt is any more utilitarian than WW's star-spangled undies.
Ivey: Does this really have to be a gender thing? I mean, really, just how comfortable did you think Batman's cowl was exactly? And Superman's tights?
Katie: Understandable, but at least the men get coverage … you know everything is in place. I also don't understand having a hero where so much of your upperhalf is vulnerable to attack … that's why the very mortal Batman is covered almost from head to toe, even if some of it isn't comfortable.
Kona Gallagher: It's like those bullet-proof vests in the second Drew Barrymore Charlie's Angels movie. They were cut like Wonder Woman's top, so they left important areas like, say, the heart exposed.
An Nicholson: I totally agree with you, Katie. I loved wonder woman's costume as a girl and I loved Xena's costume as an adult. All the same, it's highly impractical running around in a strapless bustier with a metal headband, high cut bikini briefs and 2″ heels.
About three-five years ago, DC comics gave Wonder Woman flat boots, lower cut briefs, a more muscular build and a full on spartan greek warrior outfit complete with shoulder straps. Sure, it looked uncomfortable, but at least it had a cultural reference. With Xena, I loved her outfit but  an exposed bustier and leather mini skirt would equal chapped thighs and a bloody chest.
It always bothered me that Superman, Batman, Green Lantern and Aquaman all covered up (and, seriously, Aquaman shouldn't) while Powergirl rocked the open chest and Supergirl the mini-skirt.
Ruby: Or He-Man's fur loincloth. My biggest question has always been, why do superheroes wear their underwear on the outside of their tights? Clearly it's just to highlight the area.
Debra McDuffee: Or, so your four-year old can easily dress like a superhero! Undies over the pants and a cape and you're good to go!
Michael Noble: Bill Marston notwithstanding, he had (with help) the seed of an excellent idea at the time to empower women. Yes, his thoughts and some of his methodologies were strange and twisted, but the character who came out was nifty.
And for years and years, Wonder Woman's iconic outfit didn't hinder her efforts in the least. Cripes … she's Wonder Woman! There's not time in fighting crime to worry about fashion faux pax!
Batman? Superman? Green Lantern? All fully clothed? You betcha. When created, it was a time when a man was expected to be so. They didn't flaunt around in skivvies only. Is that sexist? Yes, in a manner of speaking … but, if I may be so bold, let's get over it. None of us are superheroes and we didn't grow up way back then.
I still stand behind not fudging with an iconic outfit. Period. There are always exceptions to the rules … but so far the creators behind the new Wonder Woman aren't offering any good ones.
Bob Degon: I'm just wondering what this whole conversation says about Robin, who did, indeed, run around in his skivvies. For that matter, what about the Submariner?
An: Exactly, Bob. The Submariner lived in the sea. Hell, yea, he should rock skivvies, same as Robin, a former gymnast, they styled his costume to his former position. I just want them to apply the same logic to the female costumes.
Ruby: I don't see anything wrong with changing an iconic costume to make it less silly. Like if Christian Bale was running around Gotham in grey tights and blue underwear, I don't think he would be nearly as cool.
Bob: Or if there were nipples on the costume. …
Michael: Nor do I, Ruby. The thing is, I don't see Wonder Woman's costume as "silly" in the least. …
An: You see, Michael, that's my point. Let's get over it, by letting her wear what a female crimefighter would actually wear to let her physically accomplish her job. Why did I love NY: Undercover and H5:0? We don't see the female detectives rocking heels and makeup. Honestly, if I'm taking down perps, I don't have time to rock 3″ heels and covergirl mascara —
Ivey: Can't we just accept that superhero costumes, by their very nature, are all ludicrous by design?
Michael: I'm good with that, Ivey. With one exception: The Hulk.
Bob: Come on Michael. You're really not going to convince me that Bruce Banner had THAT many pairs of purple pants … and that he wore them every day.
Ruby: With 5% spandex for that comfortable str-e-t-ch.
Michael: Nope. Not gonna. Because they're comic book characters.  Everyone seems to be missing that point. Nor am I going to convince you Batman's (Superman's, et al) suit withstood day to day crime fighting, superhero situations, etc.
I meant The Hulk is The Hulk. Makes sense he rips around in torn trousers.
An: But, again, that's the point, they're ridiculous within reason. And, the female point is Wonder Woman's outfit isn't ridiculous, it's just gratuitous (I really need to see some male CC'ers show disapproval of the bathing suit or some female CC'ers show approval for it, 'cus right now it does look like gender lines.
Katie: And going back to what I said at the beginning, for Wonder Woman in particular, showing so much cleavage doesn't fit with her stoic personality.
Bob: Maybe Wonder Woman has shoulder straps made of the same material that her jet is made from. …
I guess I just don't have a strong opinion either way, An. I get the practicality issues, I do. Sadly, in today's society, most network shows go by the "sex sells" motto. Whether or not a sleeveless costume would actually attract more viewers than a practical one — I have no idea.
Photo Credit: Twilight Whisper
This Post Contains Multiple Pages: 1
2